MouseExtender - launcher for Windows

ITS OPENSOURCE!
IT DOES NOT NEED TO BE INSTALLED
What is it?
MouseExtender is a cosy utility with shortcuts to programs, folders and system functions (Control panel, Restart and Shutdown).
This program allows you to improve your productivity. It is extremely simple and fully customizable.
It will popup where ever your mouse cursor is, with any button you like. Please follow the link to download the latest version as it is under active development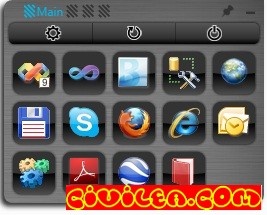 ***************************************
Content of this section is hidden, You must be registered and activate your account to see this content. See this link to read how you can remove this limitation:

http://forum.civilea.com/thread-27464.html
***************************************
The ONLY dumb question is one that is not asked