SoftPlan Architectural Design Software Version 13

SoftPlan v13.4.0 Professional - Retail
SoftPlan Architectural Design Software is the building industry's leading residential and light commercial CAD software package. Utilizing SoftPlan as your design tool will give you the flexibility to create complex, custom drawings with speed, accuracy, and ease. Draw with fully assembled and fully customizable items such as walls, windows, beams, etc. With SoftPlan you can create floor plans, cross-sections, elevations, framing plans, detail drawings, and site plans.
Developed specifically to automate the design and presentation of residential and light commercial construction projects, SoftPlan allows you to build a model of your project on your computer before you build it on the lot. SoftPlan's "virtual model" design gives you complete working drawings and realistic 3D renderings.
From quality and speed second to none to easy automated features, drawing in SoftPlan offers the convenience and accuracy of detailed floor plans using familiar objects such as walls, windows, and doors, automatic or custom roofs, site plans based on engineering data, instant cross sections and elevations and much more.
Easier Drawing Through Object Orientation:
SoftPlan's learning curve is the absolute shortest in the industry, and object orientation is one of the key reasons SoftPlan has established such an extensive and varied range of users. SoftPlan allows you to draw with fully assembled items such as walls, windows, beams, etc. Therefore, you do not need to learn a whole new language or x,y,z coordinates to effectively use the program. Because SoftPlan is an object oriented design program, users of this software are only responsible for designing floor plans. Once the floor plan designs have been completed, SoftPlan automatically creates elevations, cross sections, roof framing, wall framing and much more!
Profit With Greater Speed:
Not only does SoftPlan make the design process easier, it greatly impacts your bottom line profits by increasing the speed at which designs can be created and edited. One of the keys to SoftPlan's timesaving characteristics is automation. SoftPlan has been designed with specific tools that eliminate the unnecessary and repetitive tasks that conventional CAD packages require. For example, through the SoftTalk module you are able to do what no other CAD program in the world enables you to do, and that is simply speak your way from concept to completed drawing.
Achieve a Higher Level of Client Relations:
Although SoftPlan is an exceptional design tool, it is a practical and necessary sales tool as well. Through SoftList, it has the capability to provide you with accurate material lists and cost estimates. Through SoftView, it automatically renders your floor plan into an amazingly realistic visual presentation. Your clients will be pleased at how precise and meticulous their estimate is and amazed when they can actually see a 3D rendering right from the start! This alone will aid in building your reputation and increasing the number of jobs you will secure.
Homepage:
http://www.softplan.com/lpsoftplan.htm

[img]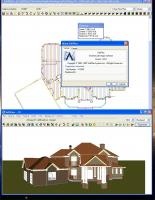 [/img]

***************************************
Content of this section is hidden, You must be registered and activate your account to see this content. See this link to read how you can remove this limitation:

http://forum.civilea.com/thread-27464.html
***************************************
"There are 10 types of people in this world. Those who understand binary and those who don't."