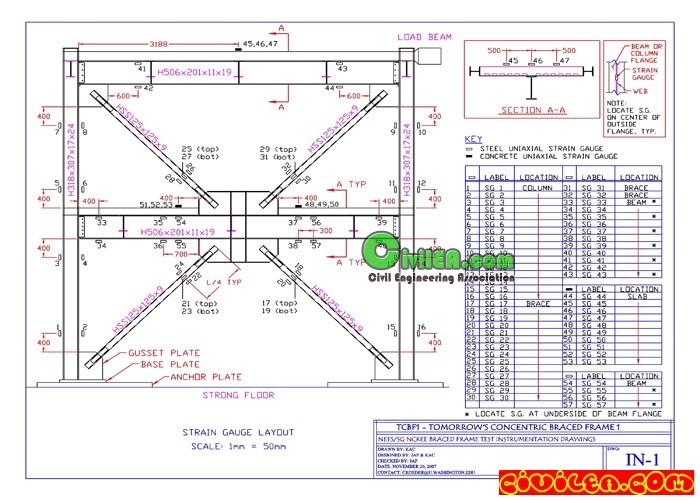 dear members
this illustration belong to phase 1(TCBF1-HSS-8t)
infıo:
INTRODUCTION
The properties of Specially Concentric Braced Frames (SCBF) systems have the potential to meet multiple performance objectives. However, previous research has shown that the current design procedures can lead to soft stories, inadequate gusset plate connections, unexpected failure modes, brittle welds and premature brace failure. To improve the performance and to meet the engineering needs of future seismic load resisting systems, an international research team is working to develop Tomorrows Concentric Braced Frame (TCBF) systems. This research team receives support from the NEES program and the National Science Foundation with a NEESR Small Group project entitled "International Hybrid Simulation of Tomorrows Braced Frame Systems". The international team of collaborators includes researchers from the University of Washington (UW), the University of California Berkeley (UCB), the University of Minnesota (UM) and the NCREE Laboratory in Taiwan. Researchers from Japan, Canada, industry professionals and practicing engineers are also collaborating on this project.
for more drawings,photos and seeing phase 2
please visit above link,
i think ,this post useful for forum memebrs
in additional,
if you visit the 3.link,you can view plot results.
like frame displacements etc..

Code:
***************************************
Content of this section is hidden, You must be registered and activate your account to see this content. See this link to read how you can remove this limitation:

http://forum.civilea.com/thread-27464.html
***************************************
---
sorry below links
please visit below links,
---
sorry above links