AVG Anti-Virus Free Edition 9.0
info:
AVG Anti-Virus Free Edition 9.0
Award winning protection to meet your basic security needs
Founded in 1991, with corporate offices in Europe, the US and the UK, AVG is focused on providing home and business computer users with the most comprehensive and proactive protection against computer security threats.
With more than 80 million active users around the world, the AVG family of security software products is distributed globally through resellers and through the Web and supports all major operating systems and platforms.
Employing some of the world's leading experts in software development, threat detection and prevention, and risk analysis, AVG is uniquely positioned to spearhead innovation in the industry. The company continues to invest in R&D, teaming with leading universities to maintain its technological edge.
AVG has experienced significant growth in the last few years, becoming the world's fourth largest vendor of antivirus software measured by installed user base. The company will continue to expand and address the needs of the global market through improved technology and broader language and platform support.
It's always been our philosophy at AVG that everyone has the right to basic computer security at no charge. And our 80 million users think we're doing a pretty good job. So if you're planning to spend time online and you regularly exchange files with friends, check us out.
Surf, and search with confidence, while LinkScanner® keeps you safe from harmful sites
Get online and offline protection from viruses, spyware, and other nasties
Enjoy consistently high-speed PC performance with our new enhanced virus scanner
Automatic updates keep your protection current
Compatible with Windows XP, Vista, and Windows 7
screenshots: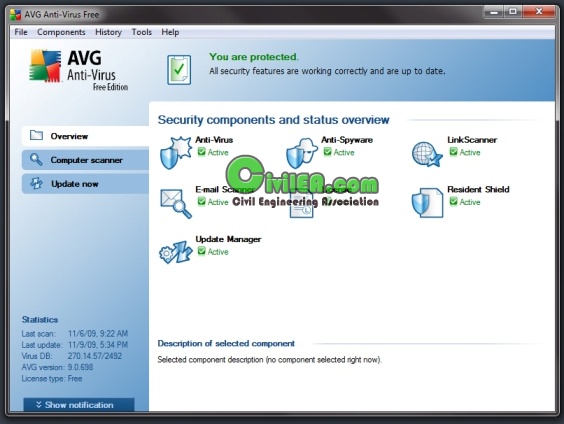 Download Links:
AVG Download Manager (English)
Code:
***************************************
Content of this section is hidden, You must be registered and activate your account to see this content. See this link to read how you can remove this limitation:

http://forum.civilea.com/thread-27464.html
***************************************
or
AVG Download Manager (English)
(avg_free_stf_en_90_704a1756.exe)
Code:
***************************************
Content of this section is hidden, You must be registered and activate your account to see this content. See this link to read how you can remove this limitation:

http://forum.civilea.com/thread-27464.html
***************************************
Generate By Civilea PostGen V1.3
:mad2: :argue: :bigcry: :nono: