Bondware Poser Pro 12.0.1029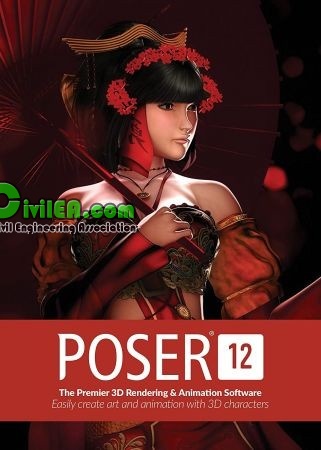 Abstract:
Poser 12 is a 3D universe that allows users the ability to illustrate and animate. Whether you've just begun your journey into graphics or you're a seasoned professional, Poser is your gateway to an experience that is infinitely creative. Design your 3D world with gigabytes of included content from Poser's library. Set the scene with real-world props and 3D elements. Populate and animate scenes with ready-to-pose, fully textured animals and humans. Start making 3D art and animation with ease.
Whether you create for interactive media, animation or the web, there's always a need for the human form. Poser delivers the power of interactive 3D figure design, offering infinite opportunities to portray human diversity, form and expression. Design with the human form for art, illustration, animation, comics, web, print, education, medical visualization, games, storyboarding, pre-visualization and more.
Poser makes working with the human form easily accessible with an intuitive user interface. Human and animal models are included for you to start designing and posing immediately. Drag-and-drop to sculpt faces, pose body parts, or create all the various ethnic varieties of humanity. For those who require finer control; full body morphs, facial expression morphs, and bone rigging are available for any figure. All features and models are provided in a natural 3D environment for realistic depth, lighting and shadowing on any figure in any pose. Quickly and easily create shape variations with Poser's brush based morphing tools. Figures are pre-rigged so artists can click-and-drag to pose body parts, sculpt faces, or create ethnic varieties. Thousands of poses, morphs, clothing, hair, materials, and accessories are included.
New Features for Poser 12:
New version of SuperFly render engine based on Blender's Cycles 1.12
Built on Blender's Cycles 1.12 Render Engine, SuperFly brings the power of physically based shading and rendering to Poser. Accurately rendering light the way it behaves in the real world makes it easier to produce hyper-realistic renders. Existing Poser users can choose to use the same familiar materials as for FireFly, or take full advantage of the SuperFly material system, by building Cycles or physically based shaders.
GPU assisted rendering is supported for a variety of GPUs for shorter render times with better results, users will be able to harness the power of their GPUs when using the SuperFly renderer. Cycles supports GPU rendering with three GPU rendering modes: CUDA, which is the preferred method for older Nvidia graphics cards; OptiX, which utilizes the hardware ray-tracing capabilities of Nvidia's Turing architecture & Ampere architecture; and OpenCL, which supports rendering on AMD graphics cards. Multiple GPUs are also supported, unlike Iray that only supports Nvidia hardware. In addition to supporting more GPU hardware, Cycles can cut render times down from hours to minutes.
New Optix support, Nvidia RTX and Turing graphics cards
The updates to SuperFly include support for Optix hardware based raytracing. This can yield significant performance gains in render speed.
New SuperFly Adaptive Sampling improves render speed
Another part of the improved SuperFly implementation of Cycles is Adaptive Sampling. This feature automatically adjusts the render sampling based on image noise. This allows the render to automatically focus on noisy areas that need more rendering samples.
Continued support for Firefly render engine
Poser's FireFly render receives continued support for its excellent capabilities in non-photorealistic renders. Because FireFly isn't a physically based render, it provides more creative freedom. It's not bound but the laws of physics.
New post effects palette for denoise and more
Poser 12 has a new Post Effects palette that allows you to adjust images after they've completed rendering. You can choose to automatically apply preset effects to renders.
New Python 3 scripting for improved security and stability
To keep Poser secure and ready for the future, the scripting engine has been updated to Python 3.
Improved compositing capabilities
The original implementation of SuperFly didn't include shadow catching and background transparency. These important features have been added to the new SuperFly.
New Material Management tab to simplify applying materials in complex scenes
Poser's simple material tab has been replaced with a new material manager. This new tab provides an easy-to-use interface to copy and distribute materials in your scenes. The drag-and-drop interface makes managing scene materials easier and faster.
Easier management of assets with identifying icons on library thumbnails
Every library item is now tagged with a type identifying icon on its library thumbnail. This makes search results more meaningful.
New searchable HTML Help system
The documentation for Poser has been completely remastered. The documentation is now much easier to use. Help files are viewable in your favorite web browser and are fully searchable, indexed and referenced.
Continued support of La Femme and L'Homme figures
Poser 12 will continue to support and grow the La Femme and L'Homme figures.
HiveWire3D Assets
Poser's bonus content includes amazing figures from HiveWire3D, inlcuding Dawn, Dusk, Baby Luna, Gorilla, HouseCat, BigDog, and HiveWire3D's Horse. All have been updated to support SuperFly materials.
Release Notes
System Requirements
- Windows 10 or later (64-bit OS required)
- 2 GHz Intel Core 2 or newer, Athlon 64 or newer (2.5 GHz or faster recommended)
- 4 GB system RAM (8 GB or more recommended)
- OpenGL enabled graphics card or chipset required for hardware accelerated preview.
- 24-bit color display, 1440 x 900 minimum resolution
- 3 GB free hard disk space (20 GB required to install all included content)
- DVD-ROM drive (physical product only)
- CUDA and OptiX enabled device recommended for hardware accelerated final rendering (2 GB RAM minimum, Compute Capability 5.0 minimum).
- OptiX-accelerated raytracing requires Nvidia RTX or Turing GPU, or newer.
- ZBrush 4 or later required for GoZ interoperability. (ZBrush 2021 recommended).
Supported Languages
English, German, Japanese

Code:
***************************************
Content of this section is hidden, You must be registered and activate your account to see this content. See this link to read how you can remove this limitation:

http://forum.civilea.com/thread-27464.html
***************************************