Principles of Structural Analysis: Static and Dynamic Loads
Author(s)/Editor(s):

Krishnan Sathia

|

Size:

81.2 MB

|

Format:

PDF

|

Quality:

Original preprint

|

Publisher:

Bentley Institute Press

|

Year:

2014

|

pages:

523

|

ISBN:

ISBN-10:1934493376 ISBN-13:978-1934493397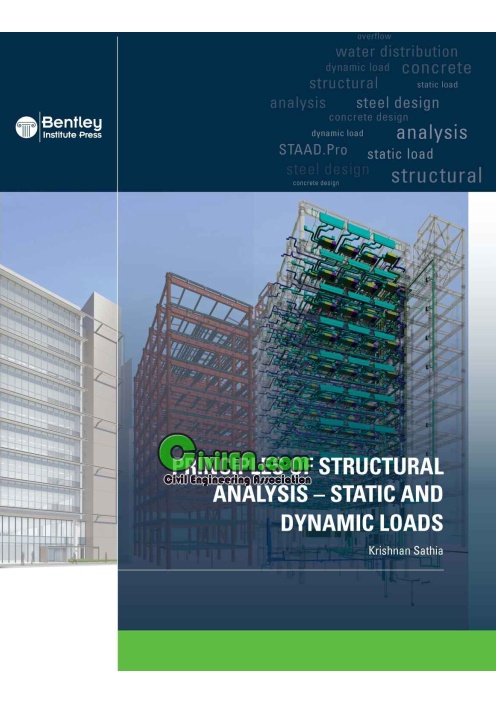 Written for beginners and advanced users alike, Principles of Structural Analysis Static and Dynamic Loads is part of a three volume series featuring Bentley's STAAD.Pro software. The series is not a how-to manual, but an illustration of the governing principles of engineering the software abides by, and the application of those principles within STAAD.Pro.
Author Krishnan Sathia, a Bentley technical support analyst, utilizes his years of experience to fill the gap that exists between the engineering concepts taught in schools and universities, and the application of those concepts on real-world problems. By connecting theory to practice, the material in this series of books will remain relevant long after today's software has been updated.
Static and Dynamic Loads guides readers through the identification of primary load types in STAAD.Pro and their effects on a structure. This is followed by the principles involved in the generation of loads such as wind, snow, and seismic forces through the software environment and how those loads can be combined and re-used for various purposes. The last part of the book deals with determining the dynamic properties of structures and analyzing them for dynamic loads through response spectrum and time history loading.
Filled with in-depth knowledge of structural analysis, high-quality illustrations and models, and applications through real-world problems, Principles of Structural Analysis Static and Dynamic Loads is a must read for students, practicing professionals, and educators around the world.

Code:
***************************************
Content of this section is hidden, You must be registered and activate your account to see this content. See this link to read how you can remove this limitation:

http://forum.civilea.com/thread-27464.html
***************************************
.