11-02-2009, 07:23 AM (This post was last modified: 11-02-2009, 08:34 AM by timosi™. Edit Reason: )
Bentley Tas Simulator V8i 9.01.02.01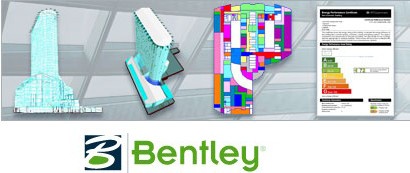 info:
Bentley Tas Simulator is an industry-leading building modeling and simulation tool. Capable of performing dynamic thermal simulation for the world's largest and most complex buildings, Bentley Tas Simulator allows designers to accurately predict energy consumption, CO2 emissions, operating costs and occupant comfort. Bentley Tas Simulator is targeted at engineers, architects, and energy assesors who want a tool that is robust and productive.
Bentley Tas Simulator is based on a custom-designed simulation engine and is the high-speed performer for complex buildings. Bentley Tas Simulator also shines at evaluating a wide range of passive design features such as operable windows and other types of passive ventilation.
Bentley Tas Simulator is used extensively in the United Kingdom for compliance checking with Part L of the building code, and can also be used with ASHRAE 90.1 and LEED in the US.
Bentley Tas Simulator gives building professionals three tools in one package: a design tool, compliance tool, an FM tool, as well as the ability to import gbXML from Bentley Architecture, Bentley Building Mechanical Systems and Bentley speedikon Architectural. In addition, the software direct data exchange between Bentley Tas Simulator and Hevacomp Mechanical Designer is possible, and it has a robust and comprehensive passive design capability.
Download Links:
Code:
***************************************
Content of this section is hidden, You must be registered and activate your account to see this content. See this link to read how you can remove this limitation:

http://forum.civilea.com/thread-27464.html
***************************************
Generate By Civilea PostGen V1.3
1.Follows the
rules
2.Use
"

Search

"
before posting
3.Post in the
correct sections
4.
Do not spam
5.Respect the other members