Construction Engineering
Author(s)/Editor(s):

OCTAVIAN G. ILINOIU

|

Size:

9 MB

|

Format:

PDF

|

Quality:

Original preprint

|

Publisher:

Technical University of Civil Engineering of Bucharest

|

Year:

2003

|

pages:

138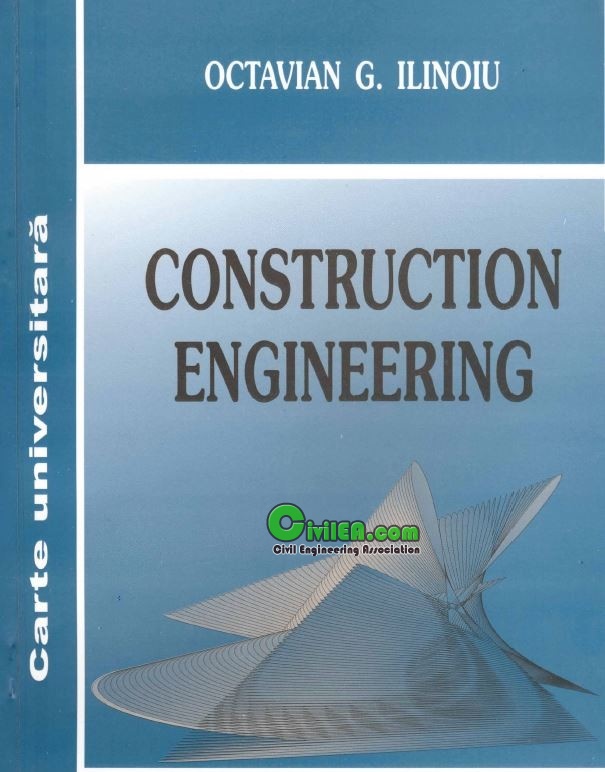 PREFACE
The construction sector is a major part of the construction industry, with projects ranging
in size from the small to the very large, all sharing common factors - workers, machinery
and materials, and the required organization and control. The graduate civil engineer must be
therefore familiar with the range of these common factors, procedures and techniques in
common use, and must be able to plan, and direct construction works.
This course book will be limited to presentation of basic principles and process techniques
in construction execution. It is intended as an aid and a guide to circumvent some
problems encountered in design and execution, outlining present techniques and materials related
to construction technology for their evaluation and improvement.
The content of this book is arranged in 11 chapters that are summarized below.
Chapter 1. Industrialization of Construction Works, provides an introduction in the field of
Construction Engineering and method of industrialization of construction works.
Chapter 2. Formwork, addresses the design and presents basic information and specifies materials,
construction, and removal of formwork, mouldwork and shoring.
Chapter 3. Steel Reinforcement, provides information and specifies the materials and workmanship
required for manufacturing concrete reinforcement.
Chapter 4. Concrete, provides an overview of conventional concrete technology form material
science and engineering systems perspective – specifically its structure and composition,
processing, properties, performance, and the quality control of it.
Chapter 5. Batching and Mixing Concrete, is devoted to discussing the proper equipment and
procedures for batching and mixing concrete by ensuring uniform quality throughout the mix.
Chapter 6. Building Material Transport Machinery and Equipment, presents relevant information
regarding proper equipment and procedures for handling and transport of building materials.
Chapter 7. Handling and Placing Concrete, presents fundamental concepts in regard of handling
and placing techniques required for cast in place conventional concrete and the quality
control of it.
Chapter 8. Compaction, Vibration and Concrete Finishing, provides a background on the
benefits of compaction of concrete and the techniques for undertaking the process on site.
Chapter 9. Curing Concrete, provides basic information in relation to related concepts of
concrete curing. A review is presented of various curing requirements and techniques for undertaking
the process on site and in precast concrete production plants.
Chapter 10. Off-site Prefabrication, provides information concerning precast concrete, advantages
and limitations, application, techniques and manufacture requirements for different
types of elements.
Chapter 11. Erection of Precast Concrete Elements, presents theoretical back ground regarding
erection of precast concrete units.
The primary object of this first volume, and those which follow, is to provide a reference
guide to Construction Engineering within the framework of the Civil Engineering Department
– English Section of the Technical University of Civil Engineering of Bucharest.
G. Ilinoiu, 2003

Code:
***************************************
Content of this section is hidden, You must be registered and activate your account to see this content. See this link to read how you can remove this limitation:

http://forum.civilea.com/thread-27464.html
***************************************