Structural Design for Fire Safety
Author(s)/Editor(s):

Andrew H. Buchanan, Anthony Kwabena Abu

|

Size:

7 MB

|

Format:

PDF

|

Quality:

Original preprint

|

Publisher:

Wiley

|

Year:

2017

|

pages:

438

|

ISBN:

978-0-470-97289-2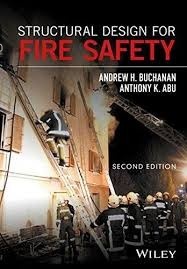 This book presents a comprehensive overview of structural fire engineering. An update on the first edition, the book describes new developments in the past ten years, including advanced calculation methods and computer programs. Further additions include: calculation methods for membrane action in floor slabs exposed to fires; a chapter on composite steel-concrete construction; and case studies of structural collapses.
The book begins with an introduction to fire safety in buildings, from fire growth and development to the devastating effects of severe fires on large building structures. Methods of calculating fire severity and fire resistance are then described in detail, together with both simple and advanced methods for assessing and designing for structural fire safety in buildings constructed from structural steel, reinforced concrete, or structural timber.
Structural Design for Fire Safety, 2nd edition bridges the information gap between fire safety engineers, structural engineers and building officials, and it will be useful for many others including architects, code writers, building designers, and firefighters.

Code:
***************************************
Content of this section is hidden, You must be registered and activate your account to see this content. See this link to read how you can remove this limitation:

http://forum.civilea.com/thread-27464.html
***************************************

Code:
***************************************
Content of this section is hidden, You must be registered and activate your account to see this content. See this link to read how you can remove this limitation:

http://forum.civilea.com/thread-27464.html
***************************************