Strengthening of concrete structures by the use of mineral-based composites System and design models for flexure and shear
Author(s)/Editor(s):

Thomas Blanksvärd

|

Size:

6.5 MB

|

Format:

PDF

|

Quality:

Original preprint

|

Publisher:

Luleå University of Technology

|

Year:

2009

|

pages:

302

|

ISBN:

978-91-86233-23-5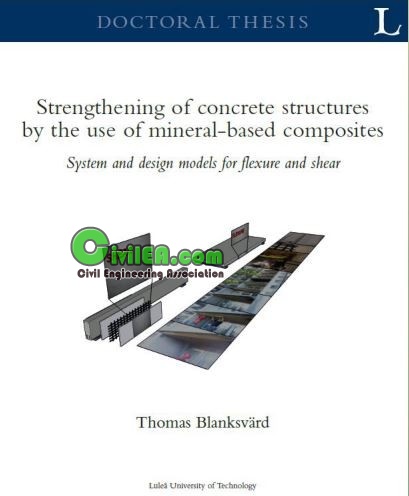 Every expedition has to have a purpose and a defined finishing line. My exploration journey as a PhD student started in September 2004. The official purpose with this mission was to investigate the suitability of using mineral-based composites for strengthening of existing concrete structures. During the last four and a half years I have learned that the unofficial purpose with this expedition was to explore my own suitability as a researcher and how to strengthen myself as an individual. The outcome of all expeditions is highly dependent on the surrounding environment, people and finances. I would therefore like to extend my personal gratitude to the following:
For the financial support I am grateful to the Swedish Road Administration, the Development Fund of the Swedish Construction Industry (SBUF), Skanska Sverige AB, the European Integrated Project "Sustainable Bridges" and Sto Scandinavia AB.
Elsa and Sven Thysell's foundation, Maj and Hidling Brosénius Foundation, Wallenberg Fundation and Ångpanneföreningen are appreciated for scholarships enabling me to travel outside Sweden to present my research and make new friends.
Prof. Björn Täljsten, I have travelled the world under your wings and gathered knowledge not possible elsewhere. Thanks for being both a friend and firm supervisor, I hope to work with you in the future. Dr Anders Carolin, the deputy supervisor, for all on and off topic conversations and being a great mentor.
The laboratory investigations would not have been possible without the helpful members in the lab, Mr. Håkan Johansson, Civ Eng. Georg Danielsson, Mr. Lars Åström, Mr. Thomas Forsberg and Dr. Claes Fahlesson The staff at the division of Structural Engineering with its head Prof. Mats Emborg, for bringing me diversity in conversations and festivities. I would also like to send a special thought to my colleagues and friends in the research group "Innovative Materials and Structures" Gabbe, Mackan and Bennitz for all the help and support.
I mentioned that my expedition started in 2004, this was not entirely true. I have followed my father in the laboratory ever since I learned to walk. During my early missions in the division of Structural Engineering I met Prof. Lennart Elfgren who has given me insightful comments during my entire visit at the university. So thank you Dad for giving me confidence, showing me that the university was not a scary place and for all the useful and endless discussions regarding civil engineering I would also like to extend my gratitude to my mom, brother and sister for always being there, believing in me and defining me as a personWhen the academic environment became too dull, I took refuge in my band SlideShow. Thank you Poe Deprey, Foxy Black and Nicky Dollars for living the rock n roll life style with me.
Saved for last, the most important dynamic factor in my life is my wife. With your everlasting energy you bring colour and shape to the otherwise grey and square subsistence. Thank you for being you and always understanding that sometimes it requires 18h days to finish a PhD. If I need help with notations or to do NSMR strengthening, you are always first in line.
- Multiply it by infinity, take it to the depths of forever and you will still only have a glimpse of how much I love you.
This concludes my seemingly 30 year long expedition in the jungle called Luleå University of Technology. Now, it is off in to the horizon and beyond.

***************************************
Content of this section is hidden, You must be registered and activate your account to see this content. See this link to read how you can remove this limitation:

http://forum.civilea.com/thread-27464.html
***************************************