OriginLab OriginPro 2017 SR0 with Help
Size:
990 MB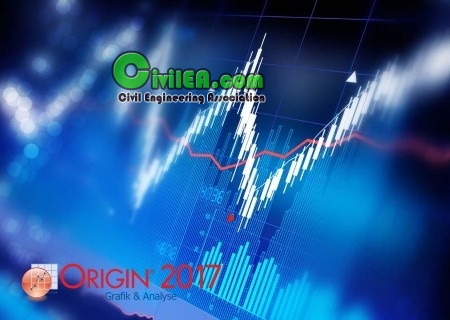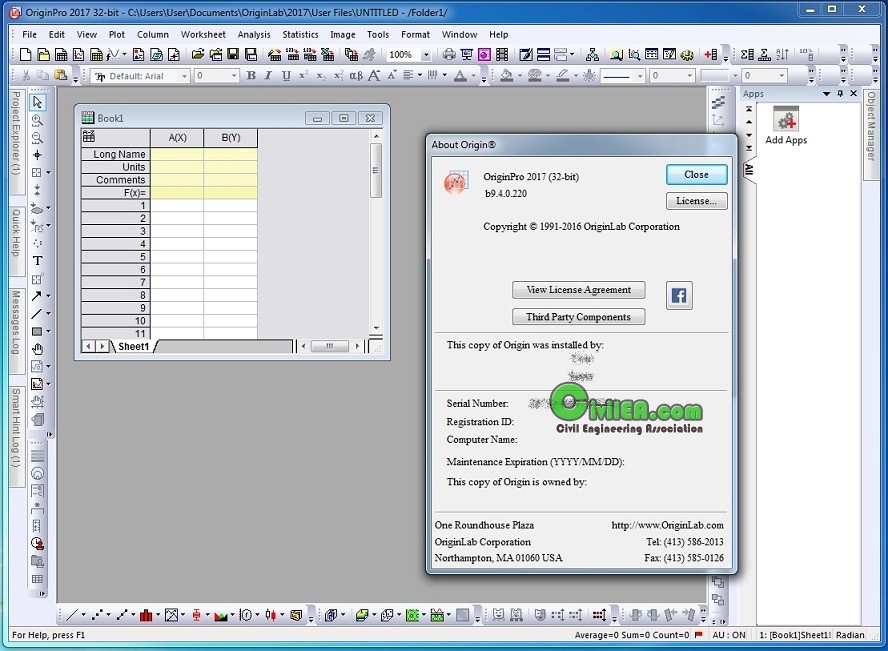 OriginLab, a leading publisher of data analysis and graphing software, announced the release of Origin® and OriginPro 2017. This latest version of OriginLab's award-winning software application adds over 100 new features, Apps and feature improvements, further enhancing Origin's ease-of-use, graphing, analysis and programming capabilities.
Origin 2017 includes several ease-of-use enhancements such as a revamped plot menu with large icons to help users quickly find the graph type they need; simpler column/cell notation for defining column formulas; and the Origin Central Startup Dialog, which provides numerous graph and analysis samples, easy access to existing templates and projects, resources to explore and install Apps, and videos and tutorials for learning.
Origin 2017 also introduces: Trellis plots for creating multi-panel graphs from grouped data; 3D stacked bars and 100% stacked bars with a variety of bar shapes; more fill patterns including a large set of standard geology patterns, and user-defined patterns; improvements to box plots; improvements to axis dialog including support OriginLab OriginPro 2017 SR0 with Helpfor multiple reference lines; and enhanced multi-tabbed dialog for customizing graph annotations.
OriginLab continues to provide Apps for extending graphing and analysis features. 14 new Apps are being released at the same time as this new version. Notable among them are: Converting SMILES strings to molecular images; Principal Component Analysis for Spectroscopy; Enzyme Kinetics; Logistic Regression; General Linear Regression; Piecewise Fit; Simple Time Series Analysis; and an updated LaTeX App to insert equations in worksheet header rows and graph axes titles, legends and text labels.
Additional updates and features in Origin 2017 include: Two-way ANOVA support for means plot to help visually compare means; built-in formulas or metadata for parameter initialization; sequential initialization of parameter values in batch peak analysis; ability to communicate with Mathematica V8 or later; support for the full NAG Mark 25 library; and support for dialogs created with HTML and JavaScript.
Origin offers an intuitive, point-and-click interface for new users, combined with a wide range of powerful functions for advanced purposes. OriginPro includes all of the features of Origin plus extended analysis tools. Origin and OriginPro are used by more than 500,000 registered customers worldwide spanning Fortune Global 500 companies, research institutions, and colleges and universities across various disciplines including physics, chemistry, biology, pharmacology, engineering, and manufacturing.

Code:
***************************************
Content of this section is hidden, You must be registered and activate your account to see this content. See this link to read how you can remove this limitation:

http://forum.civilea.com/thread-27464.html
***************************************

Code:
***************************************
Content of this section is hidden, You must be registered and activate your account to see this content. See this link to read how you can remove this limitation:

http://forum.civilea.com/thread-27464.html
***************************************
---
OriginLab OriginPro 2017 SR0 Build 9.4.0.220
Size:
497.7 MB


OriginLab produces professional data analysis and graphing software for scientists and engineers. Our products are designed to be easy-to-use, yet have the power and versatility to provide for the most demanding user. Origin is an easy-to-use software application that provides powerful data analysis and publication-quality graphing capabilities tailored to the needs of scientists and engineers. Origin offers unique peak-analysis and curve-fitting capabilities, over 60 customizable graph types, and analysis templates, all within a tightly integrated workbook environment.
Peak Fitting
The Peak Analyzer tool in OriginPro provides the additional capability of finding and fitting multiple peaks in your spectra. Baseline anchor points can be customized and fit with a suitable fitting function, and the baseline fitting can be included as part of the final peak fitting process. A detailed Fit Control dialog is provided to control all aspects of peak fitting including mixed peak functions, peak centers and widths, sharing parameters, and imposing bounds and linear constraints on parameters. Graphical as well as tabular results are generated as part of the final fit report.
Surface Fitting
OriginPro can fit a 3D surface to XYZ data points. The surface and data points can be displayed together, including droplines from the points to the surface.
Statistics
OriginPro expands on the statistical analysis capabilities of Origin by providing additional tools for Descriptive Statistics, Discrete Frequency Counting, Normality Tests, Correlation Analysis, One-way and Two-way Repeated Measures ANOVA, Principal Component Analysis, Hierarchical Cluster and Discriminant Analysis, many Nonparametric Tests such as Friedman ANOVA and Two-Sample Kolmogorov-Smirnov Test and Mann-Whitney Test, Survival Analysis tools including Weibull Fit and Cox Proportional Hazard Model, ROC Curves, and Power and Sample Size Tests.
Signal Processing
Advanced signal processing features in OriginPro include Short-Time FFT (STFT), Hilbert Transform, Coherence, 2D FFT and 2D FFT-based Filtering, 2D Correlation, and Wavelet analysis.
Image Handling
OriginPro offers more ways to handle your image data, including alpha blending, pixel logic, morphological filtering, and interpolated background subtraction.
Analytical Power
With so much analytical power, OriginPro is the software of choice for those who want a single data analysis and graphing solution.
OS : Microsoft Windows® XP, Windows® Vista, Windows® 7, Windows® 8, Windows® 8.1, Windows® 10
Language : English

Code:
***************************************
Content of this section is hidden, You must be registered and activate your account to see this content. See this link to read how you can remove this limitation:

http://forum.civilea.com/thread-27464.html
***************************************

Code:
***************************************
Content of this section is hidden, You must be registered and activate your account to see this content. See this link to read how you can remove this limitation:

http://forum.civilea.com/thread-27464.html
***************************************