Adobe Audition CC 2017 v10.0.0 MacOSX
Size:
763 MB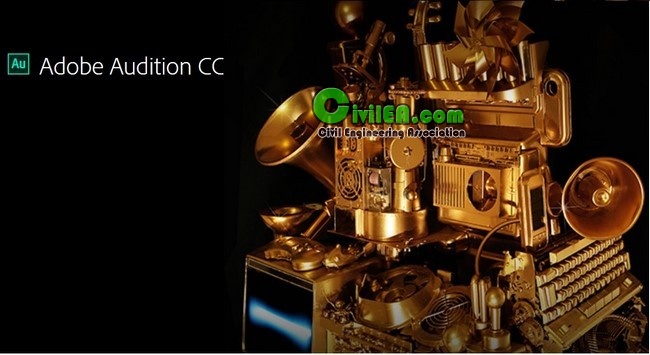 Adobe Audition CC. A professional audio workstation for mixing, finishing, and precision editing. Mix, edit, and create audio content with a comprehensive toolset that includes multitrack, waveform, and spectral display. This powerful audio workstation is designed to accelerate video production workflows and audio finishing — and deliver a polished mix with pristine sound.
What is Audition CC?
Meet the industrys best audio clean-up, restoration, and precision editing tool for video, podcasting, and sound effect design.
Ready. Set. Get Started.
This step-by-step tutorial guides you through the robust audio toolkit that is Adobe Audition CC and its seamless workflow with Premiere Pro CC.
Add oomph to your audio.
Use the Essential Sound panel to achieve professional-quality audio… even if youre not a professional.
Whats New in Adobe Audition CC (2017):
- Essential Sound panel
- Export directly from Audition with Media Encoder
- Remix and adjust the duration of a song
- Generate synthesized speech
- Automatic loudness correction
- Dynamic Link for streaming video content from Adobe Premiere Pro
- Live relinking
- Dual display full-screen video
- Auto-backup to Adobe Creative Cloud
- Marker import and export
- Automatic copying of imported assets to session folder
- Timed recordings
- Refined user interface with HiDPI support
- Expanded video format support
- Enhanced Speech Volume Leveler
- iXML metadata support
- Improved video performance
- Ability to read Adobe Soundbooth files
- Dolby Digital support
- Custom channelization
- Enhanced multitrack environment
- Sound Remover effect
- Click/Pop Eliminator and DeClicker effects
- Generate Noise effect
- ITU Loudness Meter
- Scientific Filter effect
- Stereo Expander effect
- Pitch Bender and Pitch Shifter effects
- Preview editor
- Frequency band splitter
- Edit waveforms with Spectral Frequency Display
- Smart track colors
- Paste clips to multitrack session
- Merge clips
- Phase Analysis panel
- Edit Favorites
- Extract CD tracks to a single file
- Broadcast-quality audio
- Adobe Audition CC: 64-bit
- Faster, more precise editing
- Skip Selection playback
- Real-time clip stretching
- Automatic speech alignment
- Control surface support and parameter automation
- Pitch controls
- New effects, VST3 support and flexible effects routing
- Enhanced radio automation support
- Metronome

Code:
***************************************
Content of this section is hidden, You must be registered and activate your account to see this content. See this link to read how you can remove this limitation:

http://forum.civilea.com/thread-27464.html
***************************************

Code:
***************************************
Content of this section is hidden, You must be registered and activate your account to see this content. See this link to read how you can remove this limitation:

http://forum.civilea.com/thread-27464.html
***************************************