Focusky Presentation Maker Pro 2.8.3
Size:
146.1 MB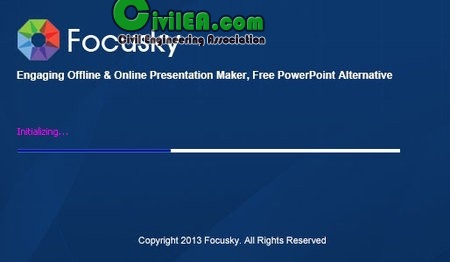 Engaging Offline & Online Presentation Maker for Windows & Mac, PowerPoint Alternative. Focusky is an interesting and intuitive software utility which aims to offer you an alternative way for creating professional-looking presentations, for school or work purposes, with the least amount of effort for you.
Zoom and Slide Based Presenting Rather than being stuck in static slide of PowerPoint, your ideas are presented in a dynamic and fascinating way with zoom and span effect, like a animated movie.
Rich Media Presentation Except text and links, multimedia including images, online YouTube video, Vimeo video, swf and flv video are available in software to express your idea.
Wide-open Electronic Whiteboard Organize your brilliant ideas in a free scaling digital canvas rather than being limited in a finite editable area. Free to present and make the information visualized.
Offline & Online Presenting The Focusky allows you to publish the creative presentation in either EXE or HTML format for offline or online displaying.
Path of Discovery Rather than traditional slide to slide presentation, with more fun the zooming presentation lead the people down a path of discovery in mind mapping style.
Encourage Simpleness Focusky encourages beauty and simpleness, helping maximize your information with least words and making the audience focus on the most important aspects of presentation.
Amazing tool to magic your presentation into memorable animation show Introducing the most impressive and most fun way to creatively combine PowerPoint, text, photos, shapes, online YouTube video, video clips and Flash into your very zooming presentation. And to display the multimedia presentation in a more animated and attractive way with zoom and slide effect.
Show on one page and Ahead through a dicovery path Unlike PowerPoint's slide-to-slide way, Focusky shows all your ideas on single canvas, which make your presentation more intuitive and easily to overview the content, as well as target the detailed information. And the content is arranged in a logical path, it advances step by step through the path to guide your audience down to the path of discovery.
Rich pre-designed templates and themes Focusky offers a rich set of beautiful templates and themes with pre-designed frames, which can be used to build different styles of presentations for diverse purposes. No design capacity required, simply insert your content! A engaging animated presentation comes out easily and quickly with Focusky templates and themes.
Import content from existing PowerPoint presentation If you have a PPT document already and don't want to input again in Focusky, the feature of importing contents directly from PowerPoint document would be helpful for you. By one key, your PPT contents show in Focusky.
Object animation to make presentation lively Do you want to make your presentation picturesque like a video? The new animation feature help you realize this. Focusky supports applying object animation for objects on each path step, which makes your presentation lively. There are tens of animation effects available in software, also you can arrange the animation orders easily.

***************************************
Content of this section is hidden, You must be registered and activate your account to see this content. See this link to read how you can remove this limitation:

http://forum.civilea.com/thread-27464.html
***************************************

***************************************
Content of this section is hidden, You must be registered and activate your account to see this content. See this link to read how you can remove this limitation:

http://forum.civilea.com/thread-27464.html
***************************************

***************************************
Content of this section is hidden, You must be registered and activate your account to see this content. See this link to read how you can remove this limitation:

http://forum.civilea.com/thread-27464.html
***************************************

***************************************
Content of this section is hidden, You must be registered and activate your account to see this content. See this link to read how you can remove this limitation:

http://forum.civilea.com/thread-27464.html
***************************************
To engineers who, rather than blindly following the codes of practice, seek to apply the laws of nature.


......T.Y Lin