BUILDING THE FUTURE / THE DISCOVERY CHANNEL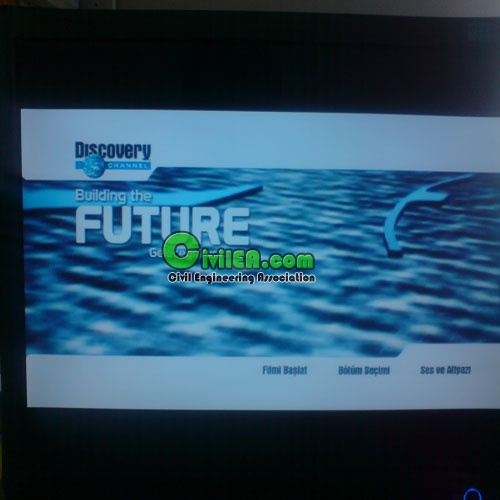 info:
South-North Water Diversion Project (Beijing, China)
Beijing, with a population that has swelled to nearly 15 million people, is struggling with an increasingly dire water shortage worsened by 30 years of drought. The Chinese government's answer is the largest water diversion undertaking ever. First envisioned by Mao Zedong in the early 1950s but not begun until 2002, the project will transport 300 million gallons of water each day from the Yangtze River in southern China to the parched, populous north via three concrete rivers, each nearly 1,000 miles long. (The most difficult part of the project will be the western route, which will require construction on the Qinghai-Tibet Plateau, at 10,000 to 16,000 feet above sea level.) Plans call for the project to be completed by 2050 at a cost of $62 billion. But whether it will be enough to alleviate China's water woes is a difficult question. Experts say that even with the extra water, the Chinese capital will have to dramatically reduce average household water consumption just to keep up with population growth. Another problem: pollution from China's rapidly growing industrial sector threatens to make the diverted water unfit to drink.
Edogawa River Project (Tokyo, Japan)
With Tokyo in the path of as many as two dozen typhoons each year, the city and its 12 million inhabitants are continually endangered by flooding. The answer: one of the most massive pumping systems ever constructed. Begun in 1992, with completion scheduled for 2009, the $2 billion system includes a four-mile-long network of tunnels connected to an 83-foot-tall storage tank and a cathedral-like structure of 59 massive pillars. The system's powerful turbines can pump 200 tons of water into the Edogawa River each second. The system has become a Tokyo tourist attraction, and it also has been used by television and movie crews as an eerily dramatic backdrop.
The MOSE Project (Venice, Italy)
Venice, built upon mud islands in a lagoon in the Adriatic Sea, has long been one of the world's most endangered cities. In the 20th century, artesian wells that gradually extracted the aquifer beneath the city caused its elegant architecture to begin sinking, increasing the flood risk. The danger will be exacerbated even more by global warming. Osvaldo Canziani, deputy head of the United Nations' Intergovernmental Panel on Climate Change, told a reporter in April 2007 that over the next 30 years, rainfall in the northern Mediterranean will increase by 10 to 20 percent, raising the lagoon's height to unprecedented levels. "If things carry on like this, Venice is destined to disappear," Canziani predicted. The MOSE project is intended to forestall that calamity. Begun in 2003 by then-Italian Prime Minister Silvio Berlusconi, the project's name is an acronym that, in English, translates to "Experimental Electromechanical Module." In simpler terms, MOSE will consist of 79 hollow, hinged steel gates that usually will be filled with water and lie unseen on the ocean floor. In the event of a storm, the gates will be pumped full of air, so that they will rise up to form a protective seawall. MOSE has been plagued by controversy. Italy's Green Party, which is now part of current Prime Minister Romano Prodi's eight-party ruling coalition, has denounced it as "the biggest fiasco [in] this century," and Venetian geographer Paolo Pirazzoli has warned that it may not be high enough to protect against sea level increases. Nevertheless, about one-third of the $4 billion project has been constructed so far, with completion scheduled for 2011.
Pyramid of Peace (Astana, Kazakhstan)
Kazakhstan, a former Soviet republic in Central Asia, has air temperatures that range from minus 60 degrees Fahrenheit in the winter to 122 degrees Fahrenheit in the summer. The brutal climate must figure in any architect's calculus, if a building is to survive its ravages. When Kazakh President-for-Life Nursultan Nazarbayev commissioned a monumental building to serve as the site for a meeting of religious leaders, the assignment wasn't for the fainthearted. But British architectural superstar Lord Norman Foster, whose projects have included the gherkin-shaped 30 St Mary Axe office tower in London, and the Turkish firm of Tabanlioglu Architecture & Consulting had the imagination and chutzpah to tackle the task. The 203-foot-high Pyramid of Peace (also known as the Palace of Peace and Reconciliation) consists of five triangular stories of pale granite and stained glass, supported by a steel frame atop a concrete base. The structure is designed to expand and contract nearly a foot to cope with temperature extremes. The pyramid, which took 18 months to build at a reported cost of $73 million, opened in late 2006. Nazarbayev flew in Spanish soprano Montserrat Caballe to give an inaugural concert in the pyramid's basement, which contains an opera hall. In April 2007, the pyramid hosted a concert by the European Union Youth Orchestra.
Taipei 101 (Taipei, Taiwan)
Taiwan is one of the most dangerous spots on the planet for a skyscraper. The island is rocked by 20 earthquakes each month, and is vulnerable to typhoons' vicious 200-mph winds. (Typhoon Talim, for example, killed 150 people and caused $1.5 billion in damage to the island in 2005.) But with a shortage of developable land in Taiwan, the only way to build profitably is to go up. The need to combine height with protection from natural disasters resulted in Taipei 101. The 3-year-old office tower, which measures 1,670.68 feet in height from the ground to the tip of its spire, is the world's tallest building, and also possibly the most stable. In the building's core, between the 88th and 92nd floors, engineers have suspended a 730-ton steel sphere that essentially acts as a giant pendulum, swaying as much as 18 inches off its axis to absorb the force of storms and quakes. Additionally, the building's frame is designed to be strong and flexible enough to withstand massive amounts of energy, with two dozen vertical columns to provide support and a steel web wrapped around the exterior. Every eight floors, outrigger trusses connect the core columns to those on the exterior, distributing the building's load. For good measure, the skyscraper is equipped with its own diesel-powered generators capable of keeping the lights and air conditioning on, even in the midst of a cataclysm. But at least one scientist thinks that Taipei 101's sheer massiveness may pose a problem. Cheng-Horug Lin, a seismologist at Taipei's Institute of Earth Sciences, has advanced the bizarre theory that the building's 705,000-ton weight may be stressing underground earthquake faults, and thus actually causes quakes to occur.
Thames Barrier (London, United Kingdom)
Back in 1663, diarist Samuel Pepys described London's vulnerability to flooding as the result of storm surges from the North Sea that cause the Thames Estuary to overflow its banks. Over the centuries, the threat has increased, due to a slow but continuous rise in high water level, as well as the slow tilting downward of the southern half of Britain as the island continues to rebound from the weight of ice age glaciers in Scotland. The Thames Barrier, a set of six massive, rotating floodgates designed by engineer Charles Draper, has protected London from disaster since the early 1980s. Since 1982, the barrier has been raised more than 100 times to thwart the rising Thames. Increasingly, however, scientists worry that global warming and its effect upon sea levels and weather may be too much for the structure to withstand. "Our Thames Barrier is built to cope with everything except an absolutely catastrophic, once-in-a-thousand-years freak weather condition," London Mayor Ken Livingstone told Reuters in May 2007. "But the trouble is freak weather conditions are becoming more and more common." There's also concern that the barrier's 13,000 seals may be starting to wear out. British environmental officials estimate that a devastating flood could inflict nearly $160 billion in damage upon London and necessitate the evacuation of more than 1 million people. That's why they plan to spend nearly $8 billion over the next 20 years to shore up the city's flood defenses.
Seymour Capilano Filtration Project (Vancouver, Canada)
In Vancouver, which ranks sixth among Canadian cities in average rainfall, you wouldn't think that getting a nice clear glass of water would be a problem. But winter storms dislodge clay and silt in the region's aquifer, and the suspended particles make the water unappetizingly cloudy. But turbidity occasionally is a health problem as well; in November 2006, officials had to warn residents to boil water before using it after heavy rainfall caused mud to contaminate local reservoirs, turning tap water a disgusting brown and raising the bacteria level. And with the Vancouver region's population growing rapidly, water threatens to become a bigger problem than ever. That's why the Greater Vancouver Water District (GVRD) is spending $500 million to dig a six-mile-long tunnel 680 feet under a mountain to link its Seymour and Capilano reservoirs and transport their water to the site of a new state-of-the-art water filtration plant, which will not only remove the sediment but also disinfect it with ultraviolet radiation. When the massive project is completed in 2008, it will be capable of producing 475 million gallons of crystal clear H2O each day. GVRD water quality manager Bob Jones has boasted that "the region will have the cleanest water in the world.
IF ANYONE HELP ME,WE CAN UPLOAD THIS DVD
MY PROBLEM: I HAVE A DVD BUT I DON'T HAVE A PREMIUM ACCOUNT
DVD:4.2 GB
screenshots: