GEOPAK Civil Engineering Suite V8i SS4 08.11.09.845 with Related Products
Size:
5.1 GB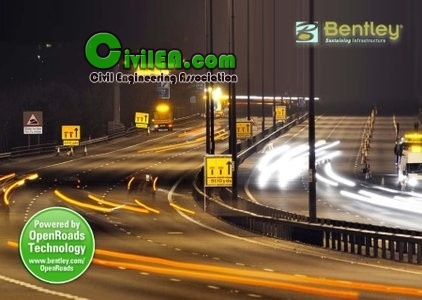 Bentley Systems Incorporated, the leading company dedicated to providing comprehensive software solutions for sustaining infrastructure, has released the V8i (SELECTSeries 4) 08.11.09.845 version of GEOPAK Civil Engineering Suite and releted products - its a Civil Engineering Road Design Software for Designing and Sustaining Transportation Infrastructure.
Bentley's GEOPAK Civil Engineering Suite gives engineers the flexibility to work the way they want with the power they need to complete their infrastructure projects. It provides complete drafting capabilities, powerful mapping tools, and design automation for civil transportation professionals. GEOPAK features constraint-driven, 3D parametric modeling with an innovative approach to designing civil components in a total-project context.
For civil engineering, road design, and land development, discover Power GEOPAK, Bentley's new standalone extension of GEOPAK Civil Engineering Suite V8i. Power GEOPAK includes MicroStation 3D CAD capabilities, Bentley Map functionality, and integration with ProjectWise – all to better serve your environmental remediation, resurfacing, restoration, and rehabilitation transportation needs.
Included:
About Bentley Systems, Incorporated
Bentley is the global leader dedicated to providing architects, engineers, geospatial professionals, constructors, and owner-operators with comprehensive software solutions for sustaining infrastructure. Bentley Systems applies information mobility to improve asset performance by leveraging information modeling through integrated projects for intelligent infrastructure. Its solutions encompass the MicroStation platform for infrastructure design and modeling, the ProjectWise platform for infrastructure project team collaboration and work sharing, and the AssetWise platform for infrastructure asset operations - all supporting a broad portfolio of interoperable applications and complemented by worldwide professional services. Founded in 1984, Bentley has more than 3,000 colleagues in 50 countries, more than $500 million in annual revenues, and since 2003 has invested more than $1 billion in research, development, and acquisitions.
Name: GEOPAK Civil Engineering Suite
Version: V8i (SELECTSeries 4) 08.11.09.845 with Related Products
Interface: english
OS: Windows XP / Vista / 7even / 8
Size: 5.1 Gb

***************************************
Content of this section is hidden, You must be registered and activate your account to see this content. See this link to read how you can remove this limitation:

http://forum.civilea.com/thread-27464.html
***************************************

***************************************
Content of this section is hidden, You must be registered and activate your account to see this content. See this link to read how you can remove this limitation:

http://forum.civilea.com/thread-27464.html
***************************************

***************************************
Content of this section is hidden, You must be registered and activate your account to see this content. See this link to read how you can remove this limitation:

http://forum.civilea.com/thread-27464.html
***************************************

***************************************
Content of this section is hidden, You must be registered and activate your account to see this content. See this link to read how you can remove this limitation:

http://forum.civilea.com/thread-27464.html
***************************************

***************************************
Content of this section is hidden, You must be registered and activate your account to see this content. See this link to read how you can remove this limitation:

http://forum.civilea.com/thread-27464.html
***************************************