Computing in civil engineering 2015 : proceedings of the 2015 International Workshop in Civil Engineering, June 21-23, 2015, Austin, Texas
Author(s)/Editor(s):

O'Brien, William J.; Ponticelli, Simone

|

Size:

85 MB

|

Format:

PDF

|

Quality:

Original preprint

|

Publisher:

American Society of Civil Engineers

|

Year:

2015

|

pages:

715

|

ISBN:

9780784479247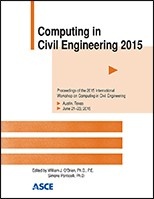 Proceedings of the 2015 International Workshop on Computing in Civil Engineering held in Austin, Texas, June 21-23, 2015. Sponsored by the Computing and Information Technology Division of ASCE.
This collection contains 88 peer-reviewed papers that present the most cutting-edge research into the challenges of integrating computing with civil engineering.
Topics include: data, sensing, and analysis; education; visualization, information modeling, and simulation.
This proceedings will be of interest to practitioners and researchers working with computing technologies in a wide range of civil, construction, and building engineering and management disciplines.

Code:
***************************************
Content of this section is hidden, You must be registered and activate your account to see this content. See this link to read how you can remove this limitation:

http://forum.civilea.com/thread-27464.html
***************************************
"His blue eyes are often bloodshot, and their expression indicates that there is a helpless, baffled soul squirming around inside this doughty fortress." Prue by Alice Munro, ©1982.