07-27-2015, 08:58 PM (This post was last modified: 07-27-2015, 09:07 PM by ssobhan. Edit Reason: )
Hyperbolic Structures: Shukhov's Lattice Towers - Forerunners of Modern Lightweight Construction
Author(s)/Editor(s):

Matthias Beckh

|

Size:

54 MB

|

Format:

epub

|

Quality:

Original preprint

|

Publisher:

Wiley-Blackwell

|

Year:

2015

|

pages:

152

|

ISBN:

9781118932681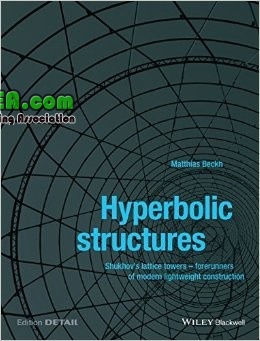 Hyperbolic structures analyses the interactions of form with the structural behaviour of hyperbolic lattice towers, and the effects of the various influencing factors were determined with the help of parametric studies and load capacity analyses. This evaluation of Shukhov's historical calculations and the reconstruction of the design and development process of his water towers shows why the Russian engineer is considered not only a pathfinder for lightweight structures but also a pioneer of parametrised design processes.

Code:
***************************************
Content of this section is hidden, You must be registered and activate your account to see this content. See this link to read how you can remove this limitation:

http://forum.civilea.com/thread-27464.html
***************************************
This post has been made by

CivilEA Post-Generator

V2.3.1
"His blue eyes are often bloodshot, and their expression indicates that there is a helpless, baffled soul squirming around inside this doughty fortress." Prue by Alice Munro, ©1982.