Ted Belytschko, Renowned Scholar and Mentor, Dies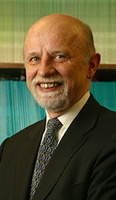 Ted Belytschko, a longtime Northwestern University mechanical engineering professor whose virtual prototyping advances now are routinely used in designing safer cars, died Sept. 15.
Belytschko was the Robert R. McCormick Institute Professor and Walter P. Murphy Professor Emeritus of Mechanical Engineering and Civil and Environmental Engineering in the McCormick School of Engineering and Applied Science.
A member of Northwestern's faculty since 1977, Belytschko was a central figure in the McCormick School and an internationally renowned researcher who made major contributions to the field of computational structural mechanics.
"Ted exuded technical excellence," McCormick Dean Julio M. Ottino said. "His work shaped an entire industry and legions of students."
One of the most cited researchers in engineering science, Belytschko developed explicit finite element methods that are widely used in crashworthiness analysis and virtual prototyping in the auto industry. He received numerous honors, including membership in the U.S. National Academy of Engineering, U.S. National Academy of Science and the American Academy of Arts and Sciences.
After receiving his Ph.D. in mechanics from the Illinois Institute of Technology in 1968, Belytschko joined the University of Illinois at Chicago, where he was a favorite among students. Wing Kam Liu, who is now a Walter P. Murphy Professor of Mechanical Engineering at McCormick, was one of his undergraduates. The two met in 1973 and became lifelong friends and collaborators.
"Ted and I had a great time during many summers while testing the theories of the computational mechanics of windsurfing on Lake Michigan," Liu said. "His research and teaching greatly influenced the modeling and simulation world in such a way that we call him the 'father of simulation-driven engineering.'"
At Northwestern, Belytschko was named a McCormick Distinguished Professor in 2003, and he served as chair of the mechanical engineering department from 1997 to 2002. Students and colleagues enjoyed his sense of humor and admired his ability to explain complex problems in an easy-to-understand manner. He served as a role model for the Northwestern community.
"Ted was my department chair when I arrived at Northwestern, and he was my model for a successful academic," said Kevin Lynch, chair of the department of mechanical engineering. "He was a great mentor, colleague and friend. His passing is a deep loss for our department."
Many techniques that Belytschko developed throughout his career changed the way engineers design structures. Some of his greatest contributions to the field of mechanical engineering were the explicit finite element methods that have been widely used in large deformation analysis and virtual prototyping. An early application for these methods was in car crash analysis. Instead of completing physical crash tests on cars, many designers now use Belytschko's simulations for virtually examining crashes.
"Ted was a titan in the field of mechanics," Lynch said. "His life's work produced ideas, technology and people that have defined the practice of computational mechanics."
Beyond his contributions to computer simulations of mechanical events, Belytschko took the most pride in his students. He delighted in watching his students learn and grow.
In a 2013 video produced by the professional association ASME, Belytschko said, "The most important thing is to give a lot of freedom because it's remarkable what these young people can do on their own. And if I hadn't let them develop on their own, I don't think I would have the reputation I have. So much of my reputation rests on the contributions of my students."
He was a founding director of the U.S. Association for Computational Mechanics, and, in 2012, the association named a medal in his honor. The ASME Applied Mathematics Award also was renamed the ASME Ted Belytschko Applied Mechanics Division Award in November 2007. Belytschko also served as editor-in-chief of the International Journal for Numerical Methods in Engineering and coauthor of the books "Nonlinear Finite Elements for Continua" and "Structures and A First Course in Finite Elements."
In 2013 the McCormick School of Engineering created a lecture series in honor of Belytschko. The Ted Belytschko Lecture recognizes the longtime faculty member for his impact on the mechanical engineering and civil and environmental engineering departments. The series brings a prominent speaker to the University each year.
Visitation for Ted Belytschko will be held from 3 to 9 p.m. Friday, Sept. 19, at the Donnellan Funeral Home, 10045 Skokie Blvd. in Skokie, Illinois. The funeral service will take place at 10 a.m. Saturday, Sept. 20, also at the Donnellan Funeral Home.
Proud Member of Best Civil Engineering Forum since May 2009