Modern Steel Construction, Magazine 01 to 09 of 2009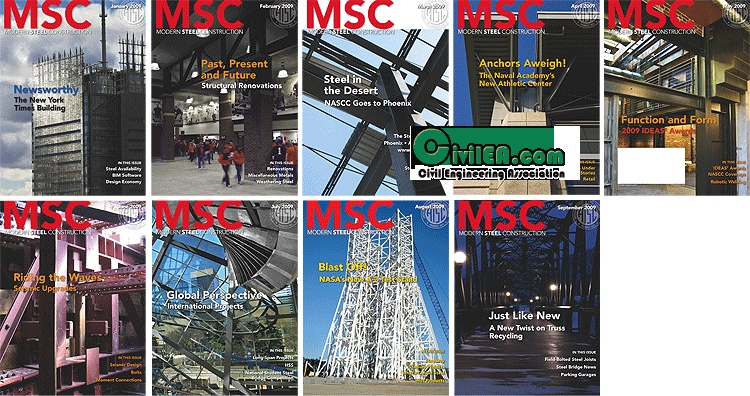 I remember that yucapareja said to upload this magazine but the file sizes are to big (approximately 100mb). They can be downloaded from the publisher's site.
Info:
Date: 01 to 09 of 2009 (9 volumes)
ISSN: 0026–8445
Publisher: AISC
Language: English
Pages: n/a
Pdf: 843 Mb (total)
Modern Steel Construction is the official publication of the American Institute of Steel Construction, Inc. MSC brings its readership in-depth information on the newest and most advanced uses of structural steel in buildings and bridges by focusing on innovative and cost-effective steel designs and the products that help bring them to life.
MSC is directed exclusively to professionals in the construction industry who make and influence purchasing decisions—whether they are engineers, architects, building owners, contractors, fabricators, detailers or erectors.
MSC is the only magazine in the United States devoted exclusively to the design and construction of steel-framed structures.
Download Links:
***************************************
Content of this section is hidden, You must be registered and activate your account to see this content. See this link to read how you can remove this limitation:

http://forum.civilea.com/thread-27464.html
***************************************
Generate By Civilea PostGen V1.3
Any content in the links of this post is for evaluational purposes and not to be used in any other way. If you don't agree that, you must not use it. If it's not free and you're using it in any other way than evaluational purposes, you have to buy a licence.