Seminar Achieving Seismic Performance in Steel Connections
Author:

Robert E. Shaw

|

Size:

21.2 MB

|

Format:

PDF

|

Quality:

Scanner

|

Publisher:

HERA

|

Year:

2012

|

pages:

246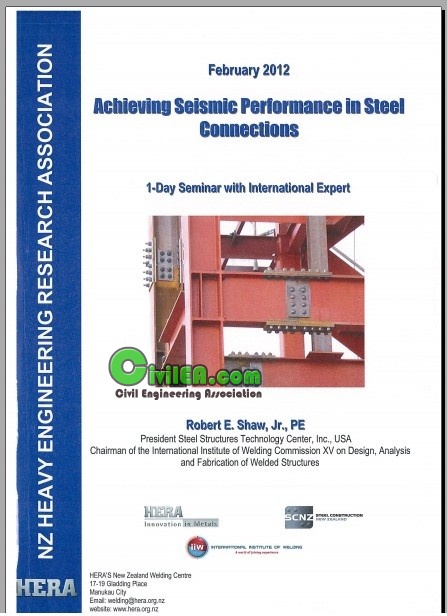 A series of seminars on Achieving Seismic Performance using Bolted Connections took place in Hamilton, Auckland, Wellington and Christchurch in March 2013.
The seminars were presented by Robert E. Shaw, one of the worlds leading experts on seismic welded and bolted connections, the Chairman of the IIW Commission XV Design, Analysis and Fabrication of Welded Structures.
This seminar was a second part of the successful seminar series Achieving Seismic Performance in Steel Connections presented by the speaker in 2012. While the previous seminar addressed issues around seismic welding, the focus of this one was on structural bolting in seismic applications. More than 55 professionals attended the events.
Achieving satisfactory performance in bolted joints involves the selection and verification of bolting materials, appropriate joint design, proper installation and quality assurance.
It covered assessment, retrofitting and detailing of bolted connections in moment frame, braced frame and steel plate shear wall systems. The seminar addressed these aspects with reference to NZS 3404.1, AS/NZS 1252, AS 4100 and other related standards.
Robert Shaw presented numerous case studies from his consultancy work on numerous significant projects in the US and abroad related to both bolting and welding issues.
Problems commonly encountered in bolted connections at the installation stage and the significance of the proper lubrication, protection, and storage as well as inspection and tightening procedure of bolts were explained in details.
One of the seminars hot topics was the conformance of steel materials for structural bolting applications.

***************************************
Content of this section is hidden, You must be registered and activate your account to see this content. See this link to read how you can remove this limitation:

http://forum.civilea.com/thread-27464.html
***************************************
---
Mirror :

***************************************
Content of this section is hidden, You must be registered and activate your account to see this content. See this link to read how you can remove this limitation:

http://forum.civilea.com/thread-27464.html
***************************************