Technical course on simulating failure mechanisms of masonry and historical structures with DIANA
Size:

4.7 MB

|

Format:

PDF

|

Quality:

Unspecified

|

Year:

2013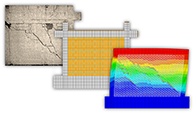 This session gives a technical background on the modeling and analysis of masonry structures in DIANA.
A case study for nonlinear modelling of a masonry infilled reinforced concrete frame which was tested experimentally will be presented. This presentation includes:
Description of the specimen
Calibration and validation of the material parameters
Modelling of the infilled frame
Pushover analysis
Comparison of the numerical and experimental results
A classical case-study of a masonry wall with opening will be presented to demonstrate DIANA capabilities for modeling and predicting failure mechanisms of masonry structures.

***************************************
Content of this section is hidden, You must be registered and activate your account to see this content. See this link to read how you can remove this limitation:

http://forum.civilea.com/thread-27464.html
***************************************