02-23-2013, 12:00 PM (This post was last modified: 02-23-2013, 12:07 PM by Mohammad6299.)
DriverPack Solution v13.0 R306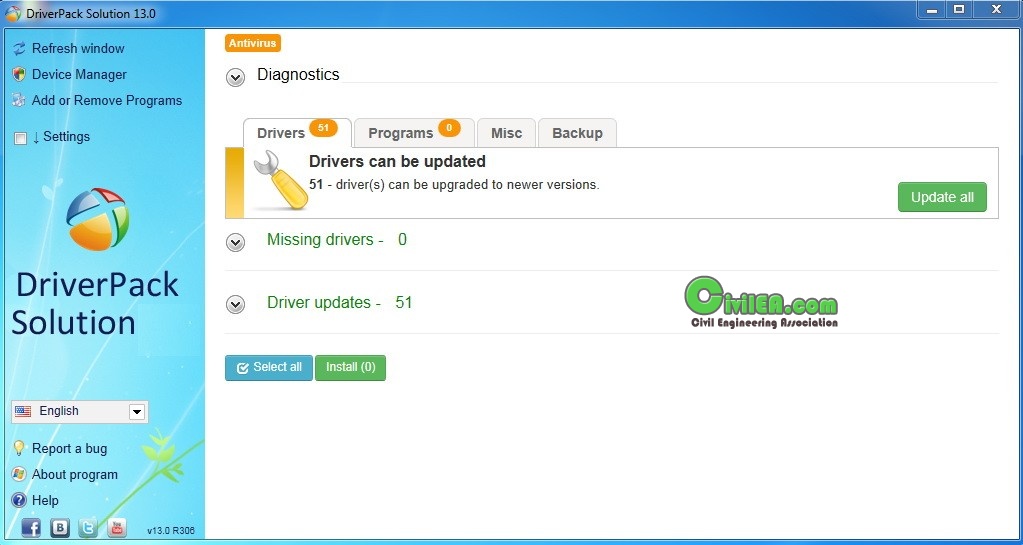 Description:
DriverPack Solution Professional 13.0 R306 - is the latest version of the popular program to automatically install the drivers. This version contains a number of new features and optimized for all platforms (x86-x64), and also supports the new operating system Windows 8. Thanks to a fresh database program installs a driver on any computer! The program greatly simplifies the process of reinstalling Windows. Find and install drivers made in the program in a few clicks. All problems of finding and installing drivers, are performed automatically.
It is a versatile manager to install drivers for all versions of Windows. Unlike the built-in Windows 7 and Windows 8 features a driver update this program can be used even without the Internet and find / install drivers for devices not only popular Vender (as is the case with Windows Update)
The program is suitable for all models of computers. Including includes drivers for notebook
Asus, Acer, Sony, Samsung, HP, Lenovo, Toshiba, Fujitsu-Siemens, DELL, eMachines, MSI ...
Help download free drivers for
Motherboard, sound card (audio), Video Card, Network Card, Wi-Fi, chipset, controller, Bluetooth (bluetooth), Modem, Web-camera, card reader, CPU, input devices, monitor, printer, scanner, USB, Other ...
Benefits of DriverPack Solution:
Automatic installation of drivers
Install the drivers on virtually any computer for only about 5 minutes
Saving of time
Do not waste time searching for drivers, install the drivers in a few clicks
Any driver for any computer
All drivers on a single DVD-ROM!
Simplify downloading new drivers from the Internet
The ability to update drivers
Update existing driver to more recent versions
Windows XP / Vista / 7/8 (x86-x64)
Supports all modern operating systems!
As a 32-bit and 64-bit versions!
Ease of use
Simple and intuitive interface
Possibility for individual design
Is open source

Code:
***************************************
Content of this section is hidden, You must be registered and activate your account to see this content. See this link to read how you can remove this limitation:

http://forum.civilea.com/thread-27464.html
***************************************

Code:
***************************************
Content of this section is hidden, You must be registered and activate your account to see this content. See this link to read how you can remove this limitation:

http://forum.civilea.com/thread-27464.html
***************************************

Code:
***************************************
Content of this section is hidden, You must be registered and activate your account to see this content. See this link to read how you can remove this limitation:

http://forum.civilea.com/thread-27464.html
***************************************

Code:
***************************************
Content of this section is hidden, You must be registered and activate your account to see this content. See this link to read how you can remove this limitation:

http://forum.civilea.com/thread-27464.html
***************************************

Code:
***************************************
Content of this section is hidden, You must be registered and activate your account to see this content. See this link to read how you can remove this limitation:

http://forum.civilea.com/thread-27464.html
***************************************