08-19-2012, 03:21 AM (This post was last modified: 08-19-2012, 09:16 AM by Dell_Brett.)
CONCRETE & CEMENT SLABS
Author:

-

|

Size:

1.2 MB

|

Format:

PDF

|

Quality:

Unspecified

|

Publisher:

-

|

Year:

-

|

pages:

-

|

ISBN:

-
[img]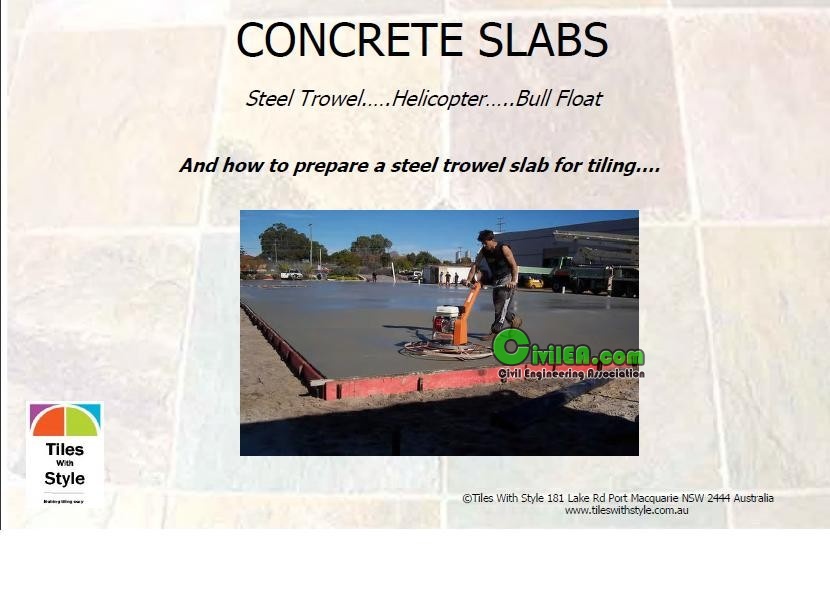 [/img]

Laitance does occur, and tile system failures are far too
common on slabs.
• Always be aware of how the slab was finished prior to
commencing tiling.
• If in doubt, conduct the water and acid tests as detailed in this
presentation.
• Test for the presence of curing or hardening compounds.
• Encourage concreters to employ good concreting practices, and
to finish their slabs with a wood float finish where possible.
• Always use the best possible surface preparation techniques
and primer and adhesive systems to overcome problems in the
slabs surface.

***************************************
Content of this section is hidden, You must be registered and activate your account to see this content. See this link to read how you can remove this limitation:

http://forum.civilea.com/thread-27464.html
***************************************

***************************************
Content of this section is hidden, You must be registered and activate your account to see this content. See this link to read how you can remove this limitation:

http://forum.civilea.com/thread-27464.html
***************************************
---
Moderator Note:


After downloading, must add a .PDF extension to the file