Structural Sensing, Health Monitoring, and Performance Evaluation
Author:

D. Huston

|

Size:

6.3 MB

|

Format:

PDF

|

Quality:

Original preprint

|

Publisher:

CRC Press

|

Year:

2010

|

pages:

662

|

ISBN:

0750309199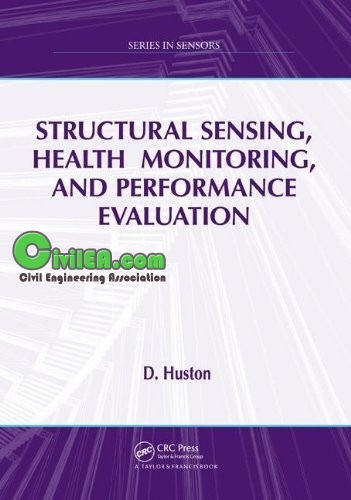 Structural health monitoring (SHM) uses one or more in situ sensing systems placed in or around a structure, providing real-time evaluation of its performance and ultimately preventing structural failure. Although most commonly used in civil engineering, such as in roads, bridges, and dams, SHM is now finding applications in other engineering environments, such as naval and aerospace engineering.
Written by a highly respected expert in the field, Structural Sensing, Health Monitoring, and Performance Evaluation provides the first comprehensive coverage of SHM. The text begins with a review of the various types of sensors currently used in SHM, including point sensors and noncontact systems. Subsequent chapters explain the processing and interpretation of data from a number of sensors working in parallel. After considering issues related to the structures themselves, the author surveys the design of a tailor-made SHM system. He also presents a collection of case studies, many of which are drawn from his own experiences.
Exploring the power of sensors, this book shows how SHM technologies can be applied to a variety of structures and systems, including multistory buildings, offshore wind energy plants, and ecological systems.


***************************************
Content of this section is hidden, You must be registered and activate your account to see this content. See this link to read how you can remove this limitation:

http://forum.civilea.com/thread-27464.html
***************************************
The expert doesn't think, the expert knows.