02-28-2012, 05:03 PM (This post was last modified: 02-18-2017, 07:52 AM by Administrator. Edit Reason: N/A )
Let see one of our newest rule
Quote:17- Do not post material in requested topics, post them in related section according to our templates then post URL of the posted material in requested topic. (For e.g. if someone request a ASTM code in request section and you have that, post new thread in eBook>Codes ...>ASTM, then post URL of that topic in reply of ASTM code request). after 20-Feb-2012 new warning will be add for this subject
I want to tell this suggetion weeks ago, not because I'm now a Candidate Moderator. :)
When this rule launching, I am doubt if it will effective and contributor want to continue follow this rule. Why?
There is no limit how many of file request by user. So, lets take an example.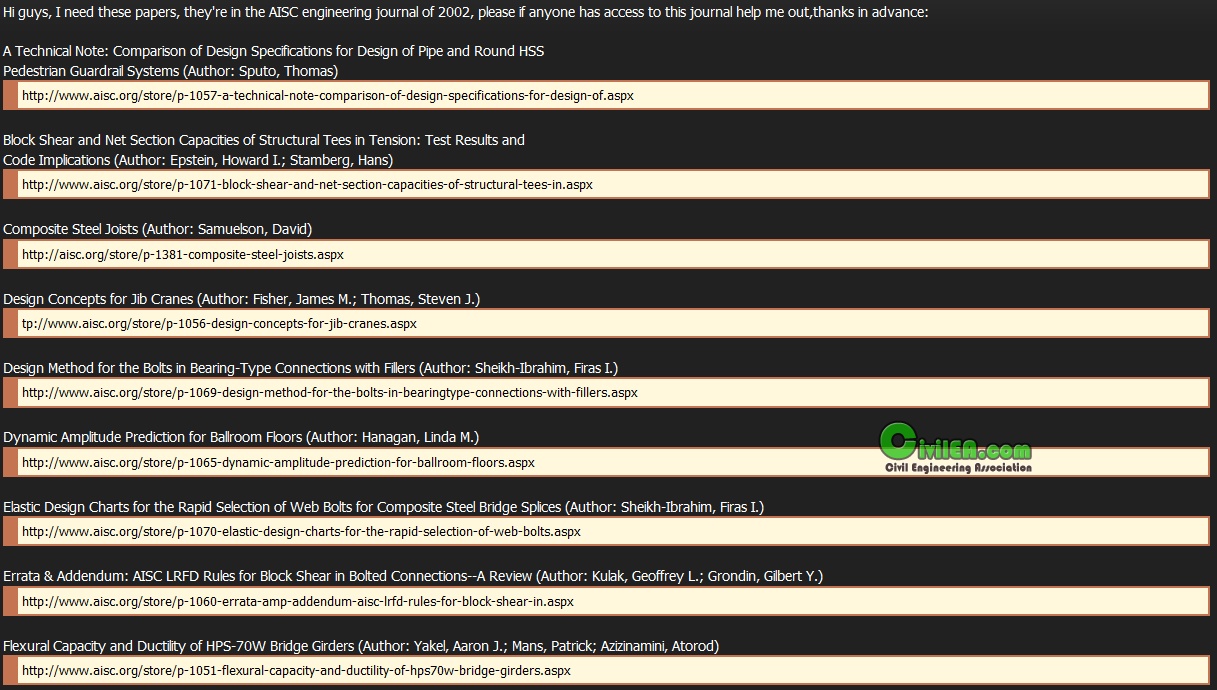 One screenshot is not enough for 1 request in 1 post.
Follow this link to see full request
Code:
***************************************
Content of this section is hidden, You must be registered and activate your account to see this content. See this link to read how you can remove this limitation:

http://forum.civilea.com/thread-27464.html
***************************************
I hope everyone know and ever use our postgenerator. Let's say there are 10 article request which not related each other.
If we obey this new rule, and If I have access and want to answer someone request then, I have to create 10 new threads. Create a new thread is a consuming activities. Image is I have to create 10 new threads.

If moderator then give warning to our forum contributor then They(contributor) will become lazy to share their material. Not like requester, If someone answer his/her request then he will frequently post his request. It's not fair.
If we want to see this rule walk in straight line, I think we have to limit user request. 3 request per day is enough.
This is only my opinion. We need to hear opinion from contributor and requester(always).
An Engineer must have a SIX sense