Steel Construction, Design and Research Journal - 09.2008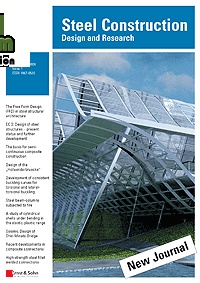 Info:
Date: September 2008 - Volume 1 - Issue 1
ISSN: 1867-0520
Publisher: Ernst & Sohn
Language: English
Pages: 107
Pdf: 7.01 Mb
Steel Construction - Design and Research unites in one journal the holistic-oriented steel construction, which interlinks competently - in the interest of resource-saving construction - with other types of construction like concrete-, glas-, cable- and membrane construction to the system-integrated steel construction.
Expert essays in Steel Construction - Design and Research are primary publications.
This journal is therefore aimed not only at academics, but in particular at consulting structural engineers, and also other engineers active in the relevant industries and authorities.
Survey of topics:
design and execution of buildings
calculation and dimensioning methods
developments in repair, assembly and retreating experimental and theoretical research projects and results
composite construction
bridges
steel buildings
cable and membrane structures
glass and lightweight constructions
masts and towers
container-, crane- and hydraulic structures
vessels, tanks and chimneys
fire protection
book reviews, seminars, trade fairs, meetings and prominent branch figures
In addition, Steel Construction - Design and Research informs about product innovations from the building and construction industry.
An internationally renown editorial board assures a most interesting selection of topics and guarantees a high standard of the contributions.
Together with the expert journal Stahlbau (Steel Structures), being published in German at the publishing house Ernst & Sohn since 1928, Steel Construction - Design and Research, mirrors the world-wide development and the standard of knowledge in steel construction. Expert essays in both journals are primary publications. Steel Construction - Design and Research and Stahlbau (Steel Structures) are uniquely uniting the steel-construction community from research and practise on national and international levels in two complementary expert journals.
Download Links:
***************************************
Content of this section is hidden, You must be registered and activate your account to see this content. See this link to read how you can remove this limitation:

http://forum.civilea.com/thread-27464.html
***************************************
Generate By Civilea PostGen V1.3
Any content in the links of this post is for evaluational purposes and not to be used in any other way. If you don't agree that, you must not use it. If it's not free and you're using it in any other way than evaluational purposes, you have to buy a licence.