Hot-dip-zinc-coating of prefabricated structural steel components
Author:

M. Feldmann, T. Pinger, D. Schäfer, R. Pope, W. Smith, G. Sedlacek

|

Size:

7.48 MB

|

Format:

PDF

|

Publisher:

JRC – ECCS

|

Year:

2010

|

pages:

110

|

ISBN:

9789279152375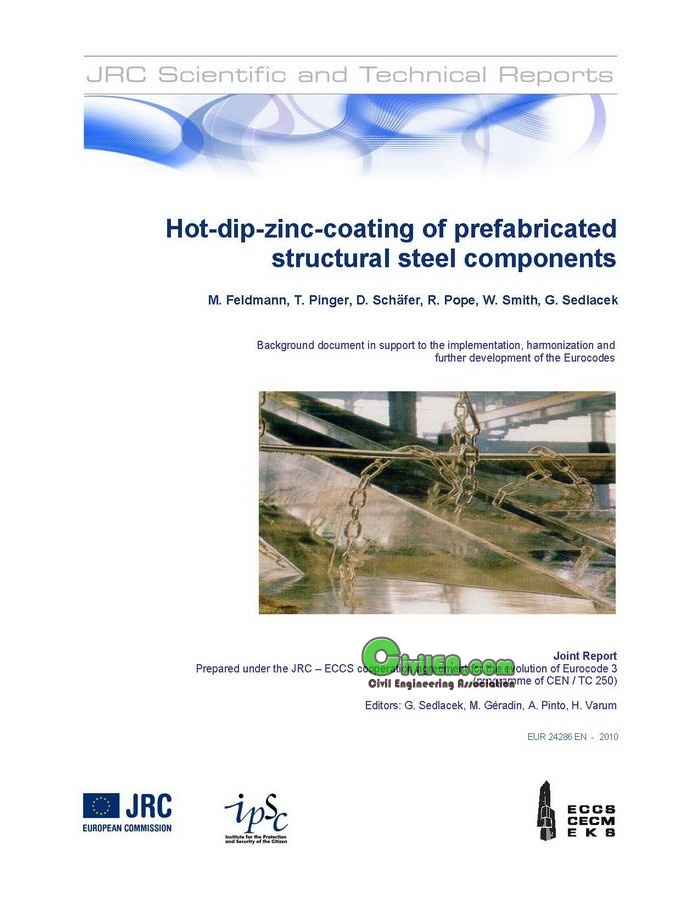 (1) This JRC-Scientific and Technical Report gives information from pre- normative research methods to avoid liquid metal assisted cracking of prefabricated structural components during zinc-coating in the liquid zinc melt that may impair the structural safety of structures in which the components are built in.
(2) This information provides a platform upon which further European design and
product specifications can be developed. It may in particular affect the further developments of EN 1993, EN 1090 and EN ISO 1461 and EN ISO 14713.
(3) This report gives the state of the art in understanding the mechanism of liquid metal assisted cracking in the zinc bath and methods and models that may be used to avoid it.
(4) It could be a basis to propose rules for the design of steel components intended to be hot-dip-zinc-coated in such a way that the design is consistent with execution rules for hot-dip-zinc-coating.
(5) The workability of the rules proposed for all metal works and steel works that are fabricated under EN 1090 and galvanized according to the rules in this report is demonstrated by worked examples.

Code:
***************************************
Content of this section is hidden, You must be registered and activate your account to see this content. See this link to read how you can remove this limitation:

http://forum.civilea.com/thread-27464.html
***************************************
The expert doesn't think, the expert knows.