Advanced Energy Design Guide for Small Retail Buildings
Size:

5.5 MB

|

Format:

PDF

|

Publisher:

ASHRAE

|

Year:

2006

|

pages:

116

|

ISBN:

1933742062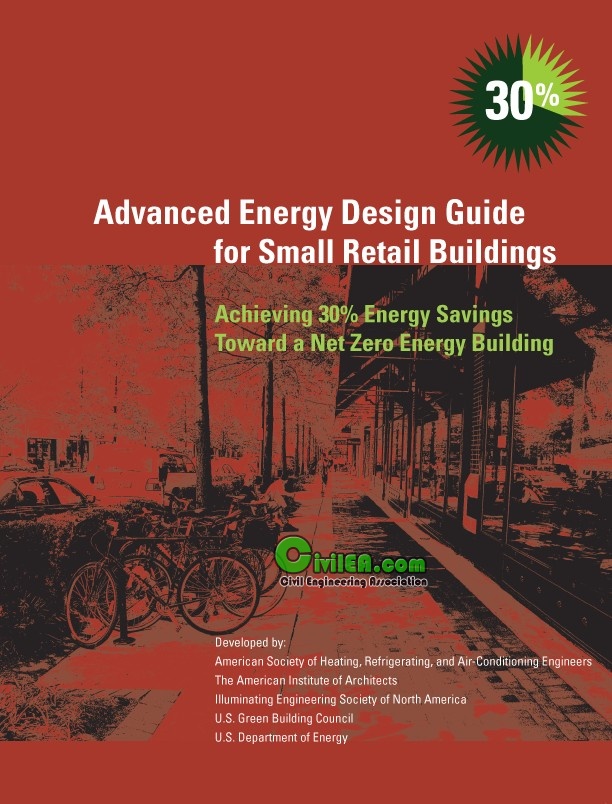 The Advanced Energy Design Guide for Small Retail Buildings (AEDG-SR; the Guide) is intended to provide a simple approach for contractors and designers who create retail buildings up to 20,000 ft2. Application of the recommendations in the Guide should result in small retail buildings with 30% energy savings when compared to those same retail buildings designed to the minimum requirements of ANSI/ASHRAE/IESNA Standard 90.1-1999. This document contains recommendations and is not a minimum code or standard. It is intended to be used in addition to existing codes and standards and is not intended to circumvent them. This Guide represents a way, but not the only way, to build energy-efficient small retail buildings that use significantly less energy than those built to minimum code requirements. The recommendations in this Guide provide benefits for the owner while maintaining quality and functionality of the space.
The scope of this Guide covers small retail buildings up to 20,000 ft2 in size that use unitary heating and air-conditioning equipment. Buildings of this size with these HVAC system configurations represent a significant amount of commercial retail space in the United States. This Guide provides straightforward recommendations and how-to tips to facilitate its use by anyone in the construction process who wants to produce more energy-efficient buildings.

Code:
***************************************
Content of this section is hidden, You must be registered and activate your account to see this content. See this link to read how you can remove this limitation:

http://forum.civilea.com/thread-27464.html
***************************************
The expert doesn't think, the expert knows.