SCI P170: Specification of Structural Steelwork for Bridges: A Model Appendix 18/1 (with commentary) 3rd Edition
Author:

D C ILES

|

Size:

0.23 MB

|

Format:

PDF

|

Publisher:

SCI

|

Year:

2008

|

pages:

28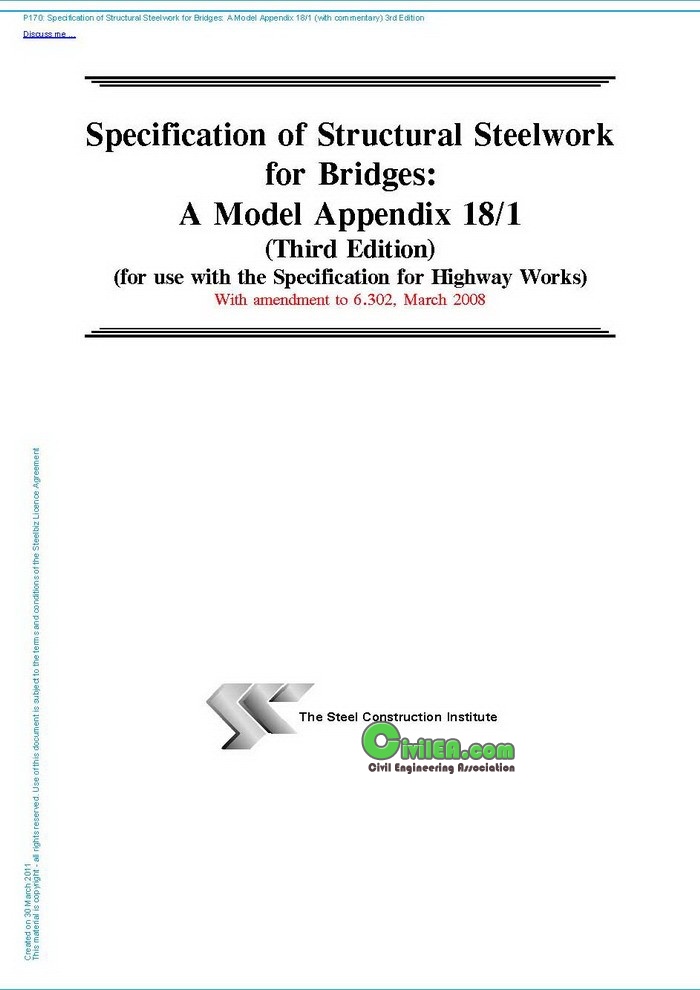 This document is set out as a series of clauses which may be incorporated in a project specification as part of an 'Appendix 18/1' to the Specification for Highway Works. The clauses are grouped under headings which generally correspond to those of the principal clauses of BS 5400: Part 6. Reference numbers are given to the 'model' clauses for ease of use and cross-reference; when used in a particular project specification an alternative numbering system may be chosen to suit the requirements of the project. Reference to clauses in BS 5400: Part 6 is made simply by quoting the clause number. The clauses are arranged in a two-column format. The left-hand column contains the actual clause text suggested by the Group. The text in the right-hand column is a commentary for the information of the person drawing up project documents and is not intended to be included within the project specification itself. In this commentary, reference is made to 'Guidance Notes'. These are a series of 60 separate topics that are published as Steel Bridge Group: Guidance Notes on Best Practice in Steel Bridge Construction (SCI P185). The Notes offer extensive, though still relatively concise, advice on practical aspects relating to structural steelwork. It is emphasised that this model document is intended to clarify and assist the production of a project specification that expresses clearly what the designer requires. This should be of benefit in pricing and execution of the work and should in turn lead to improvements in economy and quality of the finished structure. It is assumed in the model document that amendments to BS 5400-6:1999 are made under the Contract in accordance with SHW clause 1803.



Code:
***************************************
Content of this section is hidden, You must be registered and activate your account to see this content. See this link to read how you can remove this limitation:

http://forum.civilea.com/thread-27464.html
***************************************
The expert doesn't think, the expert knows.