A GUIDE TO FIRE & ACOUSTIC DATA FOR STEEL FLOOR, WALL & ROOF ASSEMBLIES
Author:

SFA

|

Size:

4.34 MB

|

Format:

PDF

|

Publisher:

SFA

|

Year:

2009

|

pages:

118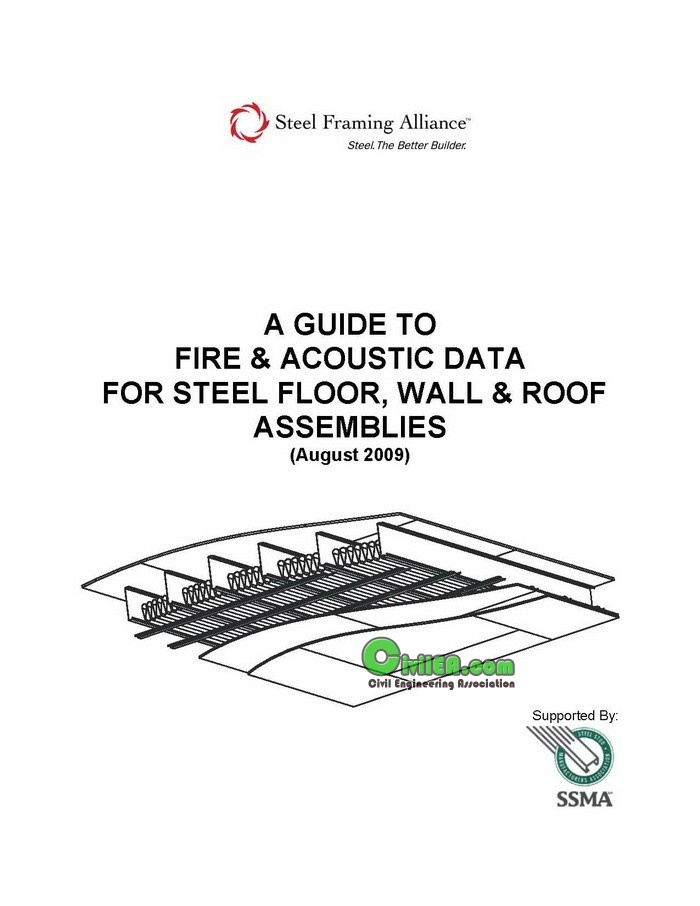 The material in this guide has been prepared as a reference of fire and sound rated lightweight steel framed assemblies. While every effort has been taken to ensure that the material is technically correct, it only offers a brief description of the tested assemblies. It must not be used without first reviewing the source documents of the testing agencies for a full description of the assembly. The Steel Framing Alliance, nor their organization's members, warrant or assume liability for the suitability of the material for any general or particular use.
Please note that some assemblies are constructed with proprietary products that may not be available in all geographical areas. Please consult the source documents of the testing agencies for these details. Where fire rated designs utilize a proprietary steel joist, fluted unit, light gauge steel truss or steel stud, the source column appears shaded and the word proprietary is in bold font to allow ease of identification for an assembly built with a proprietary cold formed steel product.

The purpose of this guide is to amalgamate fire and sound data for steel floor, wall and roof assemblies that are relevant to residential and light commercial construction.

Code:
***************************************
Content of this section is hidden, You must be registered and activate your account to see this content. See this link to read how you can remove this limitation:

http://forum.civilea.com/thread-27464.html
***************************************
The expert doesn't think, the expert knows.