Basements for dwellings
Size:

0.5 MB

|

Format:

PDF

|

Publisher:

BCA

|

Year:

1997

|

pages:

86

|

ISBN:

0721015085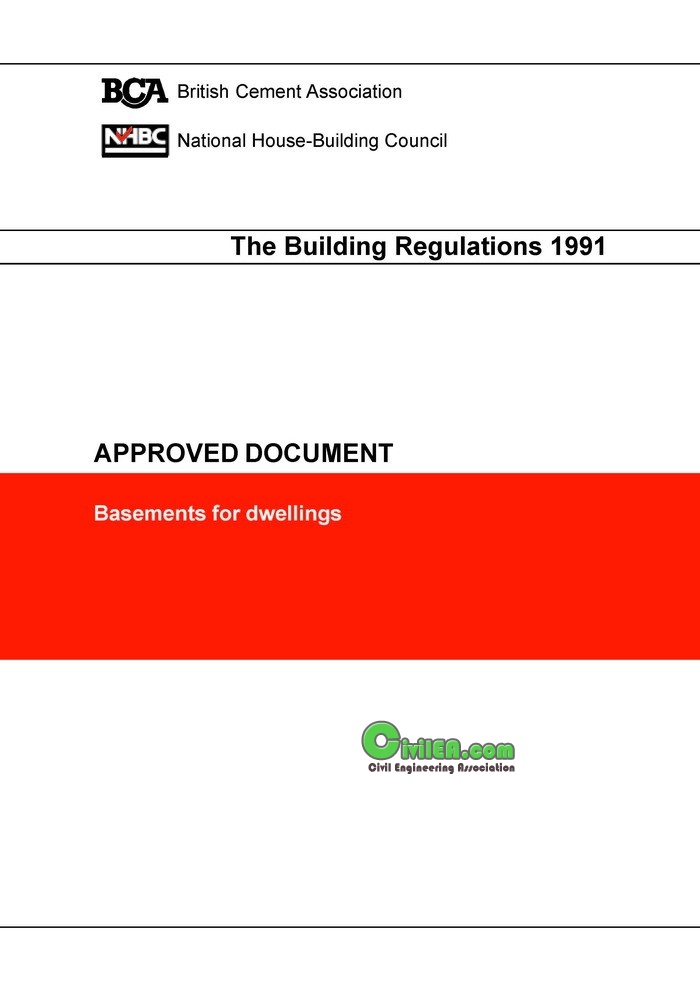 This document has been prepared by the Basement Development Group on behalf of the British Cement Association (BCA) and the National House-Building Council (NHBC). It is approved by the Secretary of State under Section 6 of the Building Act 1984 as practical guidance on meeting the requirements of relevant paragraphs in Schedule 1 to the Building Regulations 1991 (as amended 1994) as they apply to the incorporation of basements to dwellings. In its specific application this publication supplements the basic level of guidance provided by the Secretary of State in each part of the Regulations. Like all Approved Documents, this document places no obligation on the user to adopt any of the given provisions if compliance with the requirements of the Building Regulations can be
demonstrated in some other way. The guidance contained in an Approved Document relates only to the particular requirements of the Regulations which that Document addresses. The building work will also have to comply with the requirements of any other relevant paragraphs of Schedule 1 to the Regulations. There are Approved Documents which give guidance on the requirements in Schedule 1 and on regulation 7. In accordance with regulation 8, the requirements in Parts A to K and N of ScheduleÊ1 to the Building Regulations do not require anything to be done except for the purpose of securing the reasonable health and safety of persons in or about the building.

Code:
***************************************
Content of this section is hidden, You must be registered and activate your account to see this content. See this link to read how you can remove this limitation:

http://forum.civilea.com/thread-27464.html
***************************************
The expert doesn't think, the expert knows.