SCI Assessment of the Chance Helical Piling System
Size:

0.32 MB

|

Format:

PDF

|

Publisher:

SCI

|

Year:

2010

|

pages:

24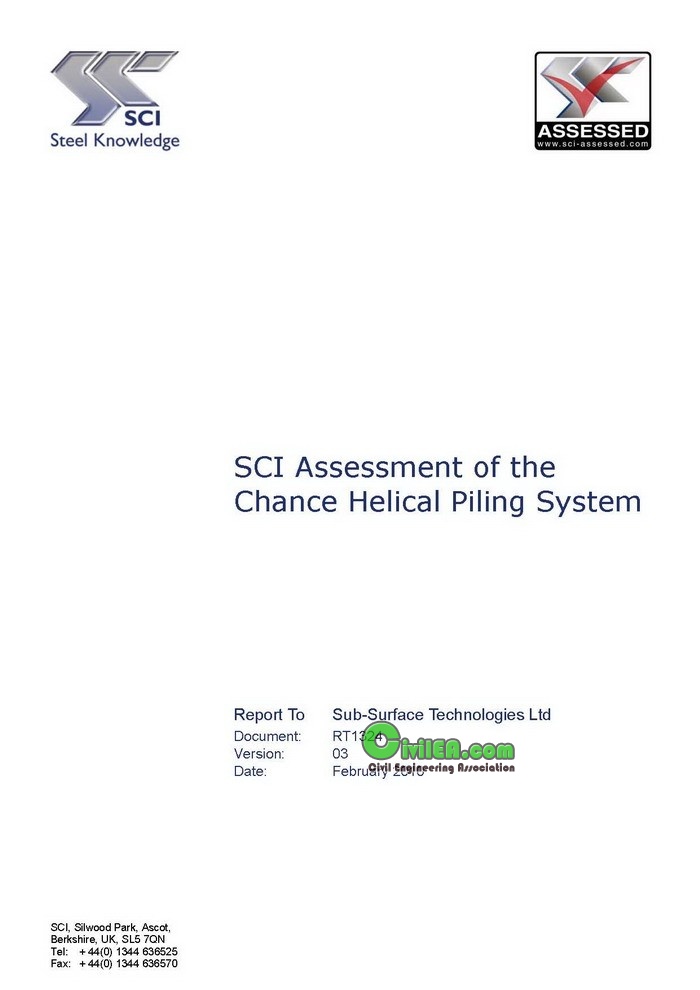 Sub-Surface Technologies Ltd (SST) is the exclusive importer of Chance™ Helical Piling Systems into the UK civil construction market. SST approached the Steel Construction Institute (SCI) to obtain an independent third party assessment of the ChanceTM Helical Piling System, which they distribute. The primary reason for wanting the assessment was to satisfy the request of NHBC. Based on information provided by SST, publicly available information and information belonging to SCI, a comprehensive assessment has been performed considering design, installation and testing of the Chance helical pile systems. Taking into account a holistic approach, the review has established that for all the aspects reviewed, comprehensive data and procedures are in place to design and install an efficient and safe foundation system using Chance helical steel piles. Each of the aspects considered have been reviewed and where applicable helpful information and/or advice has been added. As a result of the assessment the Chance Technical Design Manual for helical piling may display the "SCI Assessed" logo.

***************************************
Content of this section is hidden, You must be registered and activate your account to see this content. See this link to read how you can remove this limitation:

http://forum.civilea.com/thread-27464.html
***************************************
The expert doesn't think, the expert knows.