Fatigue Testing and Analysis: Theory and Practice 1 edition
Author:

YUNG LI-LEE

|

Size:

6,79 MB

|

Format:

PDF

|

Publisher:

Butterworth-Heinemann

|

Year:

August 12, 2004

|

pages:

416

|

ISBN:

0750677198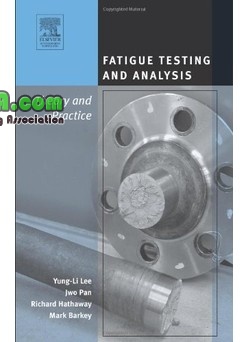 This book is a summary of experimental and analytical techniques that are essential to students and practicing engineers for conducting mechanical component design and testing for durability. There is a serious need for engineers to have an overview on the entire methodology of durability testing and reliability to bridge the gap between fundamental fatigue research and its durability applications.
· Covers the useful techniques for component load measurement and data acquisition, fatigue properties determination, fatigue analysis, and accelerated life test criteria development, and, most importantly, test plans for reliability demonstrations.
· Written from a practical point of view, based on the authors' industrial and academic experience in automotive engineering design.
· Extensive practical examples are used to illustrate the main concepts in all chapters.

Code:
***************************************
Content of this section is hidden, You must be registered and activate your account to see this content. See this link to read how you can remove this limitation:

http://forum.civilea.com/thread-27464.html
***************************************