The Incorrect and the Correct Reinforcing Detailing Of R.C.C Members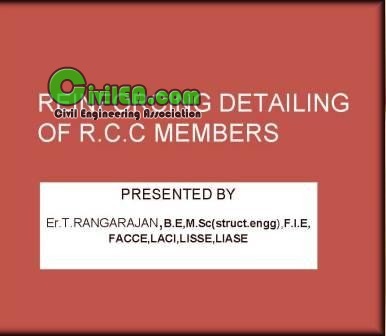 WHO IS AN ENGINEER?
According to USA President Herbert Hoover, who was an engineer before he became a politician, said:
The great liability of the engineer …compared to men of other professions……is that his works are out in the open where all can see them.
His acts …..step by step …are in hard substances.
He cannot bury his mistakes in the grave like the DOCTORS.
He cannot argue them into thin air…..or blame the judge…..like the LAWYERS.
He cannot, like the ARCHITECT, cover his figures with trees and vines.
He cannot, like the politicians, screen his shortcomings by blaming his opponents….and hope the people will forget. The ENGINEER simply cannot deny he did it.
If his works do not work……he is damned.
A design engineer's responsibility should include assuring the structural safety of the design, details, checking shop drawing.
Detailing is as important as design since proper detailing of engineering designs is an essential link in the planning and engineering process as some of the most devasting collapses in history have been caused by defective connections or DETAILING. There are many examples explained in the book" DESIGN AND CONSTRUCTION FAILURES by Dov Kaminetzky.
Detailing is very important not only for the proper execution of the structures but for the safety of the structures.
Detailing is necessary not only for the steel structures but also for the RCC members as it is the translation of all the mathematical expression's and equation's results.
For the RCC members for most commonly used for buildings we can divide the detailing for
SLABS-WITH OR WITHOUT OPENINGS.(RECTANGULAR,CIRCULAR,NON-RECTANGULAR-PYRAMID SLAB,TRIANGULAR ETC) -BALCONY SLAB,LOFT SLAB,CORNER SLAB etc
BEAMS- WITH OR WITHOUT OPENINGS.(SHALLOW & DEEP BEAMS)
COLUMNS.(RECTANGULAR,L-SHAPE,T-SHAPE, CIRCULAR,OCTAGONAL,CROSS SHAPE etc) FOUNDATIONS.
Detailing for gravity loads is different from the lateral loads specially for the SEISMIC FORCES.
Apart from the detailing for the above there is a different detailing required for the Rehabilitation and strengthening of damaged structures.
We will now dwell on the DETAILING OF MEMBERS FOR THE GRAVITY AND SOME CODAL DETAILING AS PER IS CODE IS 13920 AND IS 4326 AS REQUIRED FOR SEISMIC FORCES.

***************************************
Content of this section is hidden, You must be registered and activate your account to see this content. See this link to read how you can remove this limitation:

http://forum.civilea.com/thread-27464.html
***************************************
289.19 KB,47 Slides