Building Information Modeling: Planning and Managing Construction Projects with 4D CAD and Simulations
Author:

Willem Kymmell (Author)

|

Size:

0 MB

|

Format:

PDF

|

Publisher:

McGraw-Hill Professional; 1 edition

|

Year:

April 24, 2008

|

pages:

270

|

ISBN:

0071494537, 9780071494533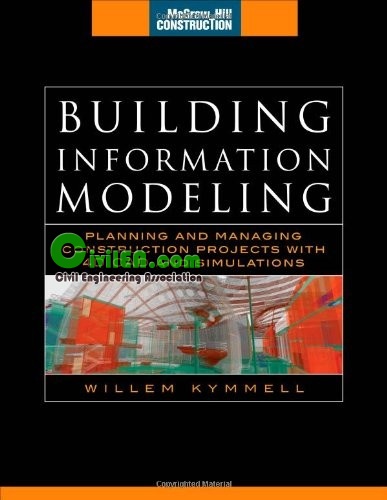 Improve Planning and Management on Any Construction Project with Powerful BIM Tools
Building information modeling (BIM) integrates 3D drawings and 4D animations to dramatically improve the communication, coordination, and planning of construction projects, while reducing risks, errors, and costs. Building Information Modeling is an in-depth resource that shows architects and building professionals how to capitalize on BIM concepts, tools, and techniques for their own building projects.
* An in-depth explanation of BIM concepts, tools, and techniques
* Guidance on applying BIM to new and retrofit construction projects
* More than 200 photos, charts, diagrams, and details of the BIM process
* Detailed case studies
Inside this Comprehensive Guide to BIM Technology
Background: • The Setting for BIM • Current Practice • Legal Considerations Building Information Modeling: • BIM Concepts • BIM Planning • BIM Implementation Software Tools: • Modeling Tools • Model Production • Model Analysis • Specific SoftwareOptions Learning BIM: • Learning Methods • Skill Sets • The Learners Case Studies
About the Author:
Willem Kymmell is a practicing architect with more than 30 years of experience in the field. He is also an Associate Professor of Construction Management at California State University (Chico), where he teaches building information modeling and construction documentation, construction document analysis, specifications, building code analysis, and architectural history. Mr. Kymmell's private practice includes residential and commercial commissions, consultations, and virtual building software training.

***************************************
Content of this section is hidden, You must be registered and activate your account to see this content. See this link to read how you can remove this limitation:

http://forum.civilea.com/thread-27464.html
***************************************