Golden Software Grapher 8.7.844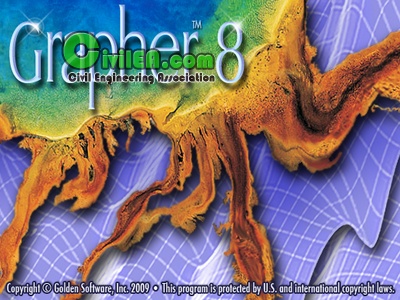 An efficient and powerful graphing program for all of your most complex graphing needs. Ideal for scientists, engineers, and business professionals! Grapher is the ultimate technical graphing package available. This easy-to-use, powerful, and dynamic program will have you creating publication-quality graphs in minutes! The superior, professional, impressive graphs will be wowing your audience every time they see your graphs.
Create informative graphs with legends, magnifiers, and multiple plot types in the same graph!
Customize any portion of any graph to make the graph completely unique to your situation!
Create your own custom graphs by using the updated easy to follow Graph Wizard.
Add legends, curve fits, annotations, and drawing objects to complete the graph.
Organize your objects in the improved Object Manager and edit your graphs in the updated Property Inspector!
Create templates to use the same graph settings with multiple data files.
Save the graphs in Grapher 5, Grapher 6, or Grapher 7 GRF formats or Grapher 5, Grapher 6, or Grapher 7 GPJ formats to make sharing documents between colleagues easier than ever!
Automate the graphing process with the included Scripter™.
Record your graph making process with the Script Recording feature inside Grapher!
Export graphs for use in presentations and publications in one of Grapher's many export formats, including vector PDF, EMF, and EPS.
Create one of 54 unique graph types. There are four different types of 2D graphs that can be created in Grapher: linear, bar, polar, and specialty graph types. In addition, many of these graph types are available with a 3D aspect. If you need an extra variable plotted on your graph, try one of the 3D XYZ graphs, the contour maps, or surface maps!

Code:
***************************************
Content of this section is hidden, You must be registered and activate your account to see this content. See this link to read how you can remove this limitation:

http://forum.civilea.com/thread-27464.html
***************************************

Code:
***************************************
Content of this section is hidden, You must be registered and activate your account to see this content. See this link to read how you can remove this limitation:

http://forum.civilea.com/thread-27464.html
***************************************