Covered Bridge Manual
Author:

Phillip C. Pierce, P.E., Robert L. Brungraber, P.E., Ph.D., Abba Lichtenstein, P.E., Scott Sabol, J.J. Morrell

|

Size:

8.16 MB

|

Format:

PDF

|

Publisher:

FHWA

|

Year:

2005

|

pages:

346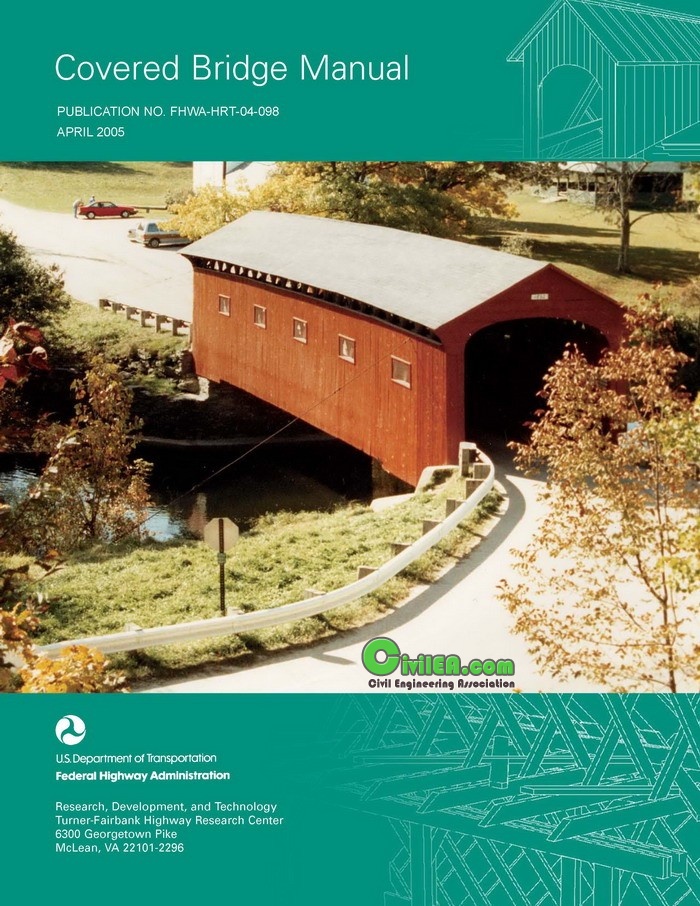 This manual provides guidance to those involved with all aspects of the work, from initial inspection and evaluation, through the engineering of rehabilitation, to construction issues. Broadly speaking, this manual covers general terminology and historic development of covered bridges. The manual also addresses loads, structural analysis, connections, and design issues. The last six chapters contain discussions of evaluation, maintenance, strengthening, and preservation of existing covered bridges; historic considerations of existing structures; and provide a state-of-the-art guide on wood preservatives for covered bridges. Historic preservation requirements as they relate to the U.S. Department of Interior standards for these important and unusual structures also are provided. The appendices include an extensive series of case studies.
The manual focuses on the nuances of the engineering aspects of covered bridges, including some issues not addressed currently by national bridge specifications. The chapter on timber connections provides a comprehensive discussion of covered bridge joinery and represents an important contribution to covered bridge engineering.

Code:
***************************************
Content of this section is hidden, You must be registered and activate your account to see this content. See this link to read how you can remove this limitation:

http://forum.civilea.com/thread-27464.html
***************************************
The expert doesn't think, the expert knows.