Street Full Atlas USA 2010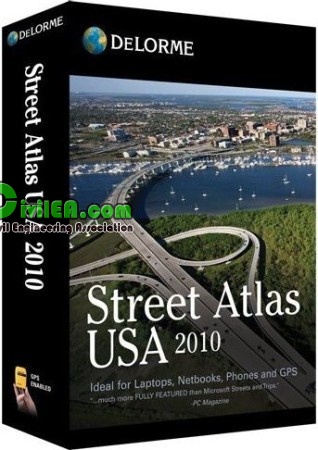 Delorme Street Full Atlas USA 2010 | 2.1 Gb

Updated, exceptionally detailed map software you can use anywhere - on the go with your laptop PC, netbook, touchscreen phone or PDA. No Internet access or subscription required. Get street-level detail for the U.S. and Canada, plus highways and major roads for Mexico. Pre-plan your trips with automatic routing and over 4 million places of interest. User controls let you plan side trips, avoid congested areas, choose back roads, and more. Locate restaurants, lodgings, attractions, truck stops, sports venues, and businesses of all kinds. Calculate fuel usage and costs. Customize the maps to meet your needs. Import aerial imagery. Print a wide variety of map packages, or use MapShare to send maps, routes, and directions to others via a secure Web link. GPS-ready - connect a DeLorme Earthmate or other receiver to your laptop and receive spoken directions. New E-Z Nav wizard makes on-the-go searching and routing a breeze. Use NavMode for optional 3-D perspective.E-Z Nav Wizard Details:
Try out the new E-Z Nav wizard for on-the-go routing. Just search on any category (see below), choose your destination (retailer, hospital, gas station, friend's address, etc), and start real-time navigation with your GPS receiver. Great for daily and overall trip planning, too.
E-Z Nav Search Categories: A New Address, Saved Locations, Food & Restaurants, Auto & Travel, Entertainment & Recreation, Emergency & Community
Much More Powerful than Online Mapping
Comprehensive tools for detailed desktop planning of your vacation or sales trip BEFORE you go, AND for on-the-go traveling using the latest electronic gear. Most other vehicle GPS systems are NOT planning tools and only track as you go. Support for Windows Vista, Pocket PCs, Windows Mobile 5.0 and later, UMPCs, and Palm OS included.
The GPS Leader
Innovative GPS features: 2-D and 3-D NavMode voice commands, spoken directions, automatic back-on-track re-routing with off-route distance settings, high contrast mobile map colors, and much more. All in addition to the new E-Z Nav Search feature.
Up-to-Date Maps & Travel Information
Comprehensive street and POI updates for the U.S and Canada, now with Mexico highways. Over 300,000 new or updated roads for 2010. Powerful travel planning tools, MapShare, and many data types.
Download Aerial Imagery
Download $40 of aerial imagery FREE using included DeLorme Data Dollars and the software's NetLink tab. Imagery can be used with all of the Street Atlas USA routing, GPS, and draw tools.
Authentic DeLorme Maps
Not licensed from 3rd party companies, the updated maps and 4 million places of interest are produced by experienced mapmakers at DeLorme.
Core Functions
Map Controls
The maps can be controlled using a variety of methods, including the traditional push-button zooming, which drills in/out while keeping the map exactly centered. Also, holding down the left mouse button enables you to drag and zoom, left-to-right, across the map, and moving the mouse in the same manner but in the opposite direction zooms out.
Find
DeLorme employs several powerful search capabilities within the software. The first is a simple box called QuickSearch where you type common requests including towns, cities, lat/lons, ZIP codes, street addresses, colleges, and many more to receive the quickest possible matches. The places-of-interest search offers more advanced parameters and the advanced search is used when locating exact matches requires additional customer input.
Draw
Add MapNotes; draw your own circles, polygons, and squares; measure the area of your draw objects--even draw in your own roads and route on them--these are amazingly powerful draw tools for the money.
Info
Right-click on the map to learn more about what's underneath your cursor. Lat/Lon, names of streets and bodies of water--even local radio station information--can be viewed in this manner. Moreover, the bottom toolbar of the software displays a continuously updated readout of what's underneath your cursor.
Voice
Use your voice for issuing routing and GPS commands while tracking. Ask common questions such as "How far to my next turn?" and the software answers. Microphone recommended for optimal usage. The software also reads upcoming turn information, including the time to turn, time to finish, and name of the street to turn onto. New voice settings allow you to select how far in advance of your turn you'd like to be prompted. Voice can also be turned off if you prefer.
Netlink and Aerial Imagery
NetLink is your online link to DeLorme for $40 of free aerial imagery now included with the Street Atlas USA 2010 versions. Select your areas of interest and download only those grids to the software. Toggle the imagery on and off in a single-screen view. Add notes and draw objects to the imagery to customize lifelike views from space.
Mobile Device Mapping
Pocket PC, Windows Mobile 5.0 and later, and Palm OS Compatible
Included at no extra charge is the DeLorme Handheld software, which now includes support for Windows Mobile 5.0 and later devices. Access the maps you want from the desktop software and hot-sync to your PDA. Add a DeLorme Bluetooth GPS for use with Bluetooth PDAs and navigate wire-free.
The DeLorme handheld functionality provides address-to-address routing, spoken directions, mobile map colors to reduce in-vehicle glare, and four million places of interest. Finding what you need is easy using the powerful search capabilities. Now you have powerful desktop mapping software and PDA software all conveniently provided in one Street Atlas USA 2010 package.
Maps on iPods
Using a tool similar to how MapShare works, now you can select the maps you want from the desktop software and send them to your photo-capable iPod. These map images are static (e.g., cannot be manipulated once on the iPod) and come across in the order you select them, same as with photos. Once on your device, you can access the ones you need, when you need them. Due to the small screen size of iPods, we recommend these maps for urban walking situations where you can discretely reference the maps you need. (Not GPS compatible.)
Convenience and Security on the Road.
Imagery can be used with all of the Street Atlas USA routing, GPS, and draw tools.
Ease of Use
E-Z Nav Wizard
New E-Z Nav wizard makes on-the-go searching and routing a breeze. Just search on any category (see below), choose your destination (retailer, hospital, gas station, friend's address, etc), and start real-time navigation with your GPS receiver on your dashboard. Great for daily and overall trip planning, too.
NavMode
NavMode brings together all the primary GPS controls and readouts needed when using the GPS. Large-screen views make it easy to see the map and directions. You can switch between 2-D (standard) map view and 3-D perspective view for lifelike views.
Keyboard Shortcuts
Set your own keyboard shortcut preferences for optimum control when using GPS. The key-bindings function is very powerful and advanced so you can design your ideal in-vehicle navigation solution to your personal specifications.
Map & Travel Information
Map Data
Because all DeLorme map data is created, updated annually, and owned by DeLorme, we are able to provide many features typically reserved for expensive in-vehicle navigation systems. Free from the license restrictions and third-party dependencies of other publishers, we can also evaluate customer-submitted revisions and implement these changes after triple-checking all submissions.
DeLorme currently has an enhanced commitment with staff in place to make as many customer revisions as possible.
Places of Interest (POI) Data
The DeLorme database contains over 4 million annually updated places of interest across the U.S., with additional ones in Canada, including restaurants, lodgings, gas stations, travel services, RV stops, truck stops, malls, shopping - just about everything you could ever need on the road. The software settings let you choose the magnification level to display the various POIs to void cluttering your map views. The POIs can be accessed using the many Find capabilities or by right-clicking on the map and selecting places based on type and distance from map center.
GPS Features
GPS Radar Search
Now you can travel with GPS and have the software find upcoming travel services based on their location from you. Find gas, hotels, shopping, and much more in your direction of travel and then easily make detours to these desired stops along the way.
It's like having your personal travel concierge with you at all times.
Automatic Back-on-Track GPS
Using the Earthmate GPS LT-40, which turns a laptop PC into a powerful GPS navigator, it's possible to have the software offer new spoken and visual directions when you stray off course. Within the GPS tab of the Options section of the E-Z Nav toolbar, you can select or type the off-route distances you want to travel before the automatic recalculations kick in. Select short distances for city travel and longer ones for highway travel where you may exit frequently for roadside travel services.
GPS Spoken Directions
The software can offer voice directions indicating upcoming turns and street names. It also can be set up to respond to your voice and answer common travel questions--a very powerful capability for mapping software within this price category. Several different voice types are included.
Printing & Sharing
Print
Print crisp color or black & white maps that you control to best match what is seen on screen. Also print Travel Packages containing strip maps and directions to bring on your trip. Don't want to use a lot of ink and paper? Then print just the Turn Details which show thumbnail maps of each of the decision points along your route.
MapShare
MapShare makes it easy to share your customized maps and directions with family, friends, and business associates. You create exactly the Map you want and then post within our online MapShare library, which includes private administrative tools for you to manage. Similar to some of the better online photo resources, MapShare allows you to provide controlled access to your important maps without worrying about email and spam filters.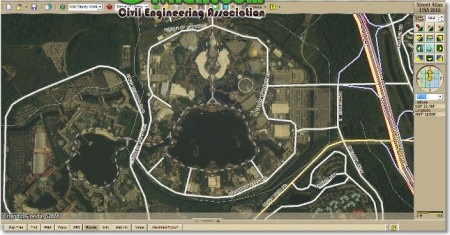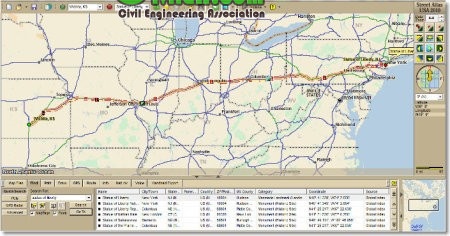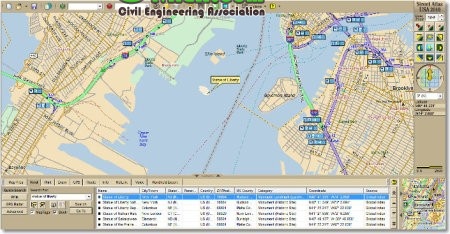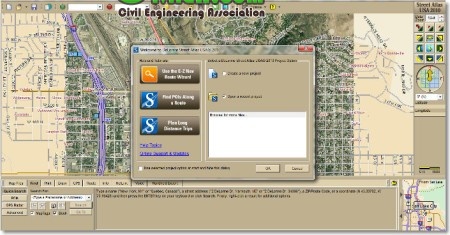 Code:
***************************************
Content of this section is hidden, You must be registered and activate your account to see this content. See this link to read how you can remove this limitation:

http://forum.civilea.com/thread-27464.html
***************************************
All links are working fin , but I didn't download