ENGINEERING STANDARD FOR FOUNDATIONS
Author:

Standards and Research department

|

Size:

1.023 MB

|

Format:

PDF

|

Publisher:

The Iranian Petroleum Standards

|

Year:

2009

|

pages:

51

|

ISBN:

none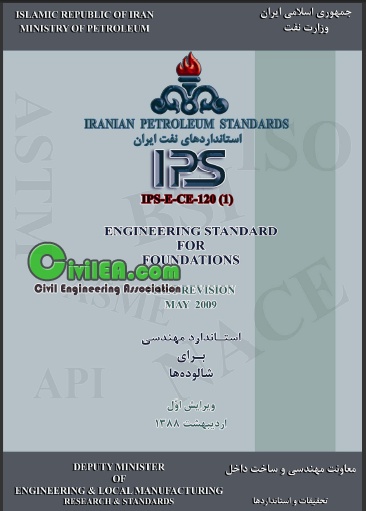 This Engineering Standard gives general criteria relevant to the planning and design of foundations, as may be encountered in various civil engineering projects in the field of Iranian Petroleum Industries.
The Standard covers shallow and deep foundations generally used in buildings with normal range of complexity, as well as foundations subject to dynamic loads from machinery, and soil improvement techniques.
This standard does not cover the following subjects which are covered in relevant IPS as shown below:
- Foundations of onshore and offshore structures; (see respectively IPS-G-CE-470 and IPS-G-CE-480).
- Special foundations like dams etc.
- The structural aspects of foundations i.e: reinforced concrete structures, (see IPS-E-CE-200).
- Piles, see IPS-E-CE-130.

DIRECT LINKS

Code:
***************************************
Content of this section is hidden, You must be registered and activate your account to see this content. See this link to read how you can remove this limitation:

http://forum.civilea.com/thread-27464.html
***************************************

Code:
***************************************
Content of this section is hidden, You must be registered and activate your account to see this content. See this link to read how you can remove this limitation:

http://forum.civilea.com/thread-27464.html
***************************************

Code:
***************************************
Content of this section is hidden, You must be registered and activate your account to see this content. See this link to read how you can remove this limitation:

http://forum.civilea.com/thread-27464.html
***************************************