11-18-2010, 01:25 PM (This post was last modified: 11-18-2010, 04:12 PM by Dell_Brett.)
ACI SP-215-26 Flexural Strengthening of Masonry Walls in a High School Using FRP Bars

Keywords:
cracking; fiber reinforced polymer (FRP); flexure; glass fiber; strengthening; unreinforced masonry
Synopsis:
Fiber reinforced polymer (FRP) composites in the form of laminates or bars have been proven to be effective for the strengthening of unreinforced masonry (URM)
walls subjected to overstresses. Two installation techniques have been proposed:
externally-bonded FRP laminates (i.e. manual lay-up or adhesion of pre-cured laminates)
and near surface mounted (NSM) FRP bars. The latter technique consists of placing a
bar in a groove cut into the surface of the member being strengthened. This paper
presents a field application on flexural strengthening with NSM FRP bars of two cracked
URM walls in an educational facility. Design considerations and the results of an
experimental program conducted to validate the strengthening are described.
by J. G. Tumialan, N. Galati, A. Nanni, and D. Tyler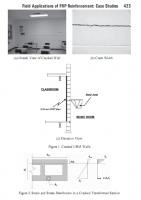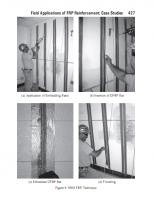 ***************************************
Content of this section is hidden, You must be registered and activate your account to see this content. See this link to read how you can remove this limitation:

http://forum.civilea.com/thread-27464.html
***************************************
---
Moderator note:
Thanks for the post!
To be clear and avoid mistakes, consider separate with spaces the download links.
Regards
Dell Brett
---