WinZip 15 introduces a powerful new architecture for increased zipping performance, a streamlined user interface with an innovative, new desktop gadget that makes WinZip even easier to use, major file sharing enhancements, and much more. With this unparalleled functionality and usability, no wonder WinZip is far and away the world's #1 utility for file compression, encryption, sharing, and data backup.
Performance Architecture
To expand on WinZip's state-of-the art technology, WinZip 15 incorporates a new architecture designed to enable significant advancements in zipping performance. Enhancements will plug into this framework, dramatically increasing the speed of compression and encryption operations and considerably reducing the time it takes to zip large files and/or large groups of files.
Usability Breakthrough
In addition to evolutions in user interface design, WinZip 15 introduces a revolution in file compression and file sharing with its groundbreaking desktop gadget. This innovative tool is your express portal for key zipping tasks. Now you can zip, unzip, and email files without opening the WinZip application—simply drag files onto the appropriate WinZip Desktop Gadget tab for instant compression, decompression and email capabilities.
Enhanced File Sharing
With a few easy clicks, WinZip 15 lets you zip and encrypt a set of files as an email attachment, compose an accompanying message, and send the email instantly—all directly from the WinZip window, without opening your email application! The result? You save time and unnecessary steps while ensuring that the files you share are smaller, safer, and more manageable.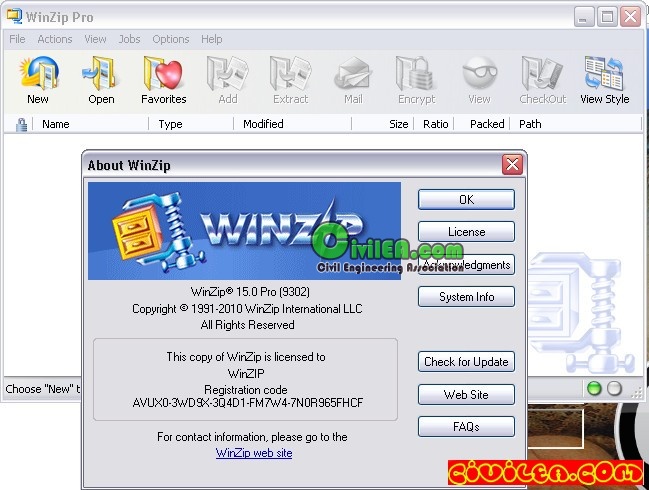 ***************************************
Content of this section is hidden, You must be registered and activate your account to see this content. See this link to read how you can remove this limitation:

http://forum.civilea.com/thread-27464.html
***************************************