TURKEY - Collection of Turkish Codes (TS)

Collection of codes related to structural engineering and construction,
TS 407: HAFIF BETON ASMOLEN BLOKLAR VE NERVUR PLAKLAR-TAVANLAR ICIN
Lightweight Concrete Hollow Blocks and Plates for Ribbed Floors
TS 498: YAPI ELEMANLARININ BOYUTLANDIRILMASINDA ALINACAK YUK DEGERLERI
Design loads for buildings
TS 500: BETONARME YAPILARIN TASARIM VE YAPIM KURALLARI
Requirements for design and construction of reinforced concrete structures
TS 648: CELIK YAPILAR ICIN HESAP VE YAPIM KURALLARI
Building Code for Steel Structures
TS 802: BETON KARISIM HESAP ESASLARI
Design Concrete Mixes
TS 1247: BETON YAPIM, DOKUM VE BAKIM KURALLARI-NORMAL HAVA KOSULLARI
Mixing, Placing and Curing of Concrete (Normal Weather Conditions)
TS 1500: ZEMINLERIN SINIFLANDIRILMASI
Classification of soil for civil engineering purposes
TS 3167: KAZIK TEMELLERİN HESAP VE DÜZENLENMESİNDE GENEL KURALLAR
Design and Construction Methods of Pile Foundations
TS 3168 EN 1536: OZEL JEOTEKNIK UYGULAMALAR DELME (FORE)-KAZIKLAR
Execution of special geotechnical work- Bored piles
TS 3169: CAKMA KAZIKLAR, TASARIM, YAPIM VE UYGULAMA KURALLARI
Driven Piles of Construction Procedure Design and Permissible Load
TS 3233: ON GERILMELI BETON YAPILARIN HESAP VE YAPIM KURALLARI
Building Code Requirements for Prestressed Concrete
TS 3351: SANTIYEDE BETON DENEY NUMULERININ HAZIRLANMASI VE BAKIMI
Making and Curing Concrete Test Specimens In the Field
TS 3530: AGREGALARIN GEOMETRIK OZELLIKLERI ICIN DENEYLER
Tests for Geometrical Properties of Aggregates
TS 3624: SERTLESMIS BETONDA OZGUL AGIRLIK, SU EMME VE BOSLUK ORANI TAYINI
Test Method for Determination the Specific Gravity the Absorption Water and the
Void Ratio in Hardened Concrete
TS 4561: CELIK YAPILARIN PLASTIK TEORIYE GORE HESAP KURALLARI
Rules for Plastic Design of Steel Structures
TS 4834: BETON ILE ILGILI TERIMLER
Terms Related to Concrete
TS 6164: BETONARME PROJELERININ CIZIM VE TANZIMI KURALLARI-GENEL
Rules for Reinforced Concrete Drawing and Arrangement of Sheets-General
TS 6989: BETONARME SİLOLARIN HESAP, YAPIM VE KULLANIM KURALLARI
Rules for Design, Construction and Use of Reinforced Concrete Silos
TS 7994: ZEMIN DAYANMA YAPILARI
Soil Retaining Structures; Properties and Guidelines for Design
TS 8983: INSAAT SIRASINDA YAPILARDA ALINMASI MECBURI GENEL EMNIYET TEDBIRLERI
Obligatory Safety Measures in Structures
TS 11372: CELIK YAPILAR-HAFIF-SOGUKTA SEKIL VERILMIS PROFILLERLE OLUSTURULAN
Light Weight Steel Structures-Composed of Cold Formed Steel Members-Design
Rules
TS 2987: BETONDA PRIZ SURESININ TAYINI
Determination of Time of Setting of Concrete
TS EN 12504-1: BETON- YAPIDA BETON DENEYLERI- BOLUM 1
Testing concrete in structures - Part 1
TS ISO 9194: YAPILARIN PROJELENDIRILME ESASLARI
Bases for design of structures; actions due to the self-weight of structures,
non-structural elements and stored materials; density
TS 3527: BETON AGREGALARINDA INCE MADDE ORANI TAYINI
Test Method for Determining the Proportion of Fine Materials in Aggregates for
Concrete
TS 3529: BETON AGREGALARININ BIRIM AGIRLIKLARININ TAYINI
Test Method for Determination of the Unit Weight of Aggregates for Concrete
TS EN 206-1: BETONUN OZELLIGI, PERFORMANS, IMALAT VE UYGUNLUGU
Concrete- Part 1: Specification, performance, production and conformity
TS EN 12390-3: SERTLESTIRILMIS BETON DENEYLERI
Testing hardened concrete - Part 3: Compressive strength of test
specimens
!! ALL CODES ARE IN TURKISH !!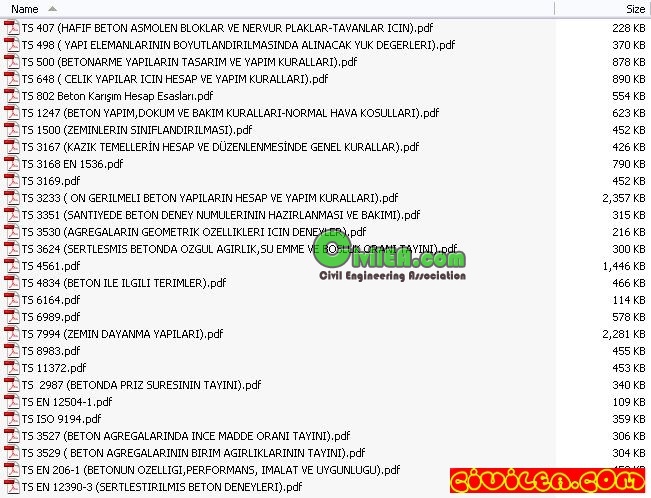 ***************************************
Content of this section is hidden, You must be registered and activate your account to see this content. See this link to read how you can remove this limitation:

http://forum.civilea.com/thread-27464.html
***************************************
Engineers Without Borders