Elementary Structural Analysis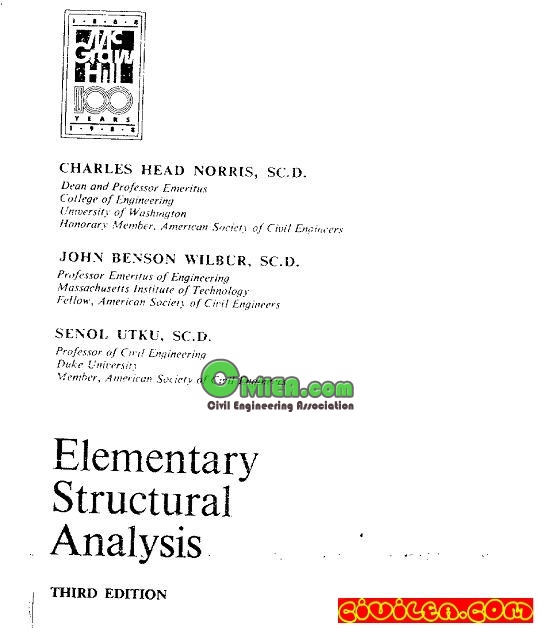 Elementary Structural Analysis
Authors: Charles Head Norris, John Benson Wilber & Senol Utku
Edition: 3rd
Pages: 349
Publishers: McGraw-Hill Inc., USA
Language: English
ISBN: 0070472564
007YB5534X (for use in ordering for buying)
This book is focused sharply on an elementary treatment of the analysis of structural behaviour, with illustrations drawn almost exclusively from the field of civil engineering structures. Admittedly analysis is a means to an end---not the end itself---since the primary objective of the structureal engineer is to design, not to analyze.
This book has been divided into three major divisions:
Part I: Basic Structural Theory: contains eleven chapters devoted to the fundamental concepts and the basic definitions and analytical techniques that provide the foundation for the entire field of sturctural analysis.
Part II: Introduction to Systematic Structural Analysis consists of five chapters in which automatic computational procedures are developed for identifying and organizing input information for processing by digital computers through the various stages of the solution of some of the most basic problems encountered in the analysis of civil engineering structures.
Part III: Introduction to Advanced Structural Analysis includes two chapters, one contains a brief introduction to the principles of advanced structural mechanics and the other is devoted to an introduction to methods of analyzing the plastic behavior of structures.
Although the book is old, still it is very much useful in the field of structural analysis courses and civil engineering practice and at the same time, it is nice if your personal library include such rare collection of books.

***************************************
Content of this section is hidden, You must be registered and activate your account to see this content. See this link to read how you can remove this limitation:

http://forum.civilea.com/thread-27464.html
***************************************
"Downstream is Weaker"