Earthquake Spectra - February 2010 Volume 26 Issue 1 pp. 1-310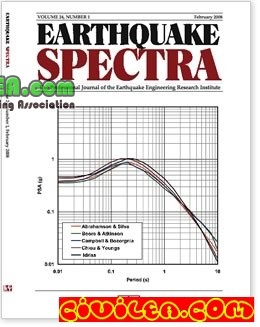 Earthquake Spectra, the professional journal of the Earthquake Engineering Research Institute (EERI),
is published quarterly in both printed and online editions in February, May, August, and November.
The printed edition is sent to EERI members as part of their membership benefits.
EERI established Earthquake Spectra with the purpose of improving the practice of earthquake hazards mitigation, preparedness, and recovery.
It is intended to serve the informational needs of the diverse professionals engaged in
earthquake loss reduction: civil, geotechnical, mechanical, and structural engineers; geologists, seismologists,
and other earth scientists; architects and city planners; public officials; social scientists; and researchers in all these disciplines.
Spectra serves as the publication of record for the development of earthquake engineering practice, earthquake codes and regulations,
earthquake public policy, and earthquake investigation reports. Manuscripts published in Earthquake Spectra are peer reviewed.
Periodically, EERI publishes special issues of Earthquake Spectra, either as theme issues or as reconnaissance reports on major earthquakes.

***************************************
Content of this section is hidden, You must be registered and activate your account to see this content. See this link to read how you can remove this limitation:

http://forum.civilea.com/thread-27464.html
***************************************

***************************************
Content of this section is hidden, You must be registered and activate your account to see this content. See this link to read how you can remove this limitation:

http://forum.civilea.com/thread-27464.html
***************************************