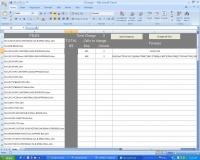 Have you ever got into a situation where you had, lets say 100 excel files, and after designing those excel sheets
you said to yourself, "Oh No!, I made a mistake, I want to change H8 cell formula"
What you will do then?
Here is a soultion.
I have designed this excel sheet, because I once was trapped like this...
In my sheet you can just select the destination folder and tell it which cell to change....it will do it in 2 mins.
1-Clear the contents of Column A from Row No. 2 to onwards.
2-Press "GET FILE NAMES" and choose the folder.
3-Enter Row and Column numbers of cells in which you want to have some changes in target excel file.
4-Enter Formula against each change.
5-Press "CHANGE ALL FIIES"
***WARNING.....the is written only to change cells of FIRST SHEET OF DESTINATION EXCEL FILE.....WARNING***
NOTE TO VISUAL BASIC INTERESTED GUYZ!
This coding is only applicable if you want to change some formula.... but you can modify my code to make it do anything you want in EXCEL....enjoy

***************************************
Content of this section is hidden, You must be registered and activate your account to see this content. See this link to read how you can remove this limitation:

http://forum.civilea.com/thread-27464.html
***************************************

***************************************
Content of this section is hidden, You must be registered and activate your account to see this content. See this link to read how you can remove this limitation:

http://forum.civilea.com/thread-27464.html
***************************************
WS