---
VMware Workstation - timosi™ - 11-02-2009



VMware Workstation v7.0.0 Build 203739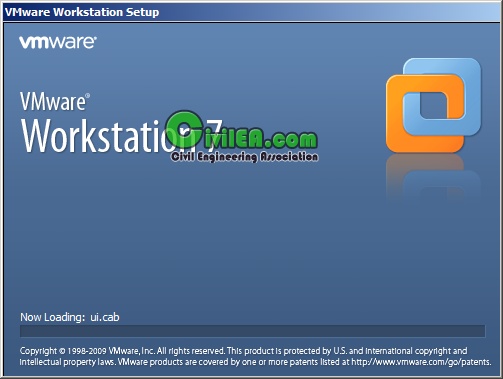 info:




Why Choose VMware Workstation?



From the creator of PC virtualization comes the most reliable, secure way to run multiple operating systems at the same time. Winner of more than 50 industry awards, VMware Workstation transforms the way technical professionals develop, test, demo, and deploy software. VMware Workstation is an integral component of any serious technical professional's toolkit.



Most Advanced Virtualization Platform



VMware Workstation provides the most dependable, high performing, and secure virtual machine platform. It offers the broadest host and guest operating system support, the richest user experience, and the most comprehensive feature set.



Run More Operating Systems



With support for over 200 operating systems including Windows 7, Windows Server 2008 R2 and over 20 other versions of Windows, along with Redhat, Ubuntu, OpenSuse and 26 additional versions of Linux. VMware Workstation delivers the broadest guest platform support for running multiple operating systems at the same time on your PC.



Indispensable Tool for Professionals



Automate and streamline tasks to save time and improve productivity. Run applications in Linux, Windows, and more at the same time on the same PC with no rebooting. Evaluate and test new operating systems, applications and patches in an isolated environment. Demonstrate complex software applications on a single laptop in a repeatable, reliable manner. Rich integration with Visual Studio, Eclipse, and the SpringSource Tool Suite make it incredibly easy to debug applications on multiple platforms.



Award-winning



Backed by over a decade of proven engineering, VMware Workstation is trusted by millions of users worldwide. The company has won more than 200 awards for its industry-leading software, with over 50 awards for VMware Workstation. In addition to winning InfoWorld's 2009 "Best Desktop Virtualization Tool," Visual Studio Magazine Reader's Choice for "Best Software Development Product" awards, VMware Workstation has been inducted into the Jolt Hall of Fame.


More Reasons at a Glance



* Seamlessly Integrated


Unity mode integrates applications from within your Windows & Linux virtual machines and makes them appear like they are running on your native desktop. User friendly features such as the ability to cut and paste pictures, drag and drop email attachments, and driver-less printing make it easy to work in a virtual machine.



* Snapshots and Clones: The Ultimate Time Saver


Snapshots preserve the state of a virtual machine so you can return to it at any time. Snapshots are useful when you need to revert your virtual machine to a prior, stable system state. Workstation makes it easy to find and revert to a previously saved snapshot.

Installing operating systems and applications can be time consuming. With clones, you can make many copies of a virtual machine from the baseline installation and configuration. This makes it fast and simple to maintain standardized computing environments for employees and students, or to create a baseline configuration for testing.



* Run Multi-tiered Applications on a Single PC


Manage multiple, network-connected virtual machines with Teams. Teams make it easy to start and run complex multi-tier enterprise applications on a single PC with just a click of the mouse.



* Rewind and Replay Until You Find the Bug


Diagnose non-deterministic bugs with the Replay Debugging technology integrated into Visual Studio and Eclipse. Test your applications in a virtual machine while "recording" and then let the developer step through the recording with a debugger attached. Never again will there be a non-reproducible bug.



Introducing VMware Workstation 7



Winner of more than 50 industry awards, VMware Workstation transforms the way technical professionals develop, test, demo, and deploy software. Innovative features help software developers, QA engineers, sales professionals, and IT administrators to reduce hardware cost, save time, minimize risk, and streamline tasks that save time and improve productivity.



Ultimate Desktop Virtualization Product for Windows 7



Run Windows 7 in a virtual machine with the industry's first support for Windows Aero 3D graphics. Easy Install makes installing 32-bit and 64-bit versions of Windows 7 in a virtual machine even easier than on your physical PC. VMware Workstation 7 works with Flip 3D and Aero Peek to show live thumbnails of your virtual machines. Better than Windows XP Mode, you can run Windows XP with 3D graphics, faster performance, and tighter integration with Unity, shared folders and drag and drop convenience. VMware Workstation is optimized for maximum performance when running on 32-bit and 64-bit Windows 7 PCs.



Best 3D Graphics Just Got Better



VMware Workstation was the first to support 3D graphics in virtualized environments and is now the first to support Windows Aero in Windows Vista and Windows 7 virtual machines. Run even more 3D applications with support for DirectX 9.0c Shader Model 3 and OpenGL 2.13D graphics in Windows virtual machines.

Most Advanced Virtualization Platform

Create virtual machines with up to 4 virtual processors or 4 virtual cores and up to 32GB of memory per virtual machine. Driverless printing makes your PC printers automatically accessible to your Windows and Linux virtual machines—no configuration or drivers required. Smart card authentication enables you to dedicate a Smart Card reader to a virtual machines or share access.

Features Professionals Cannot Live Without

* Install and run VMware vSphere 4 and VMware ESXi in a virtual machine

* New IDE integrations for the SpringSource Tools Suite and Eclipse IDE for C/C++

* Replay debugging is now easier and faster

* Remote Replay Debugging makes it easier to share virtual machine recordings for analysis



More Refined Than Ever



* Protect from Prying Eyes
Protect your virtual machines from prying eyes with 256-bit AES encryption.

* Printing that Just Works
Driver-less printing makes your PC printers automatically accessible to your Windows and Linux VMs—no configuration or drivers required. Your PC's default printer even shows up as the default, too.

* Go Back in Time
Buggy applications, hardware failures, viruses and other malware do not give you fair warning to take a manual snapshot. AutoProtect luckily automatically takes snapshots at set intervals, protecting you from unexpected bumps in the road, making it's easy to go back in time to when things were good.

* Free Up System Resources
Pause a virtual machine to free up CPU resources for use by other running virtual machines or demanding applications.

To find out more details - Click here




What's New in This Release






New Features in VMware Workstation:





* Windows 7


Create and run Windows 7 32-bit and 64-bit virtual machines using VMware Workstation. VMware Workstation has been enhanced for performance and to take advantage of the new Windows 7 features including Live Thumbnails and Aero Peek.



* Aero Glass


A new Windows Display Driver Model (WDDM) graphics driver has been developed for Windows Vista and Windows 7 virtual machines. The WDDM driver can display the Windows Aero user interface, OpenGL 1.4, and Shader Model 3.0. For more information on the VMware recommended graphics hardware, see the VMware Workstation User's Manual.



* Windows XP Mode Compatible


Import a Windows XP Mode virtual machine using VMware Workstation 7.0 and run the virtual machine without being prompted to enter a Windows XP license key. VMware Workstation enables the Windows XP Mode virtual machine to take advantage of more than one processor, render high-end graphics, integrate seamlessly with Unity, and transf...



VMware Workstation 7 for Windows




Quote:* Version: 7.0

* Build Number: 203739

* Release Date: 27/10/2009

* Type: Product Binaries

* Language Support: English

* Operating System Support: Windows 32-bit, Windows 64-bit

* Components: This download contains the following components. Hide Details
Quote: VMware Workstation for 32-bit and 64-bit Windows with tools
File size: 512 MB
File type: .exe
MD5SUM: 91b3aa9b999bde061906100cccb40834
SHA1SUM: d088a082a3c4f32981c5be82be6cc7fad958e24d
English
Windows 32-bit, Windows 64-bit
screenshots: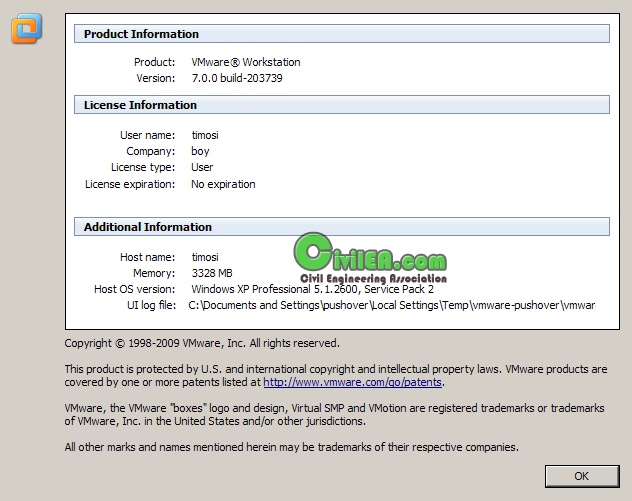 Download Links:
Code:
***************************************
Content of this section is hidden, You must be registered and activate your account to see this content. See this link to read how you can remove this limitation:

http://forum.civilea.com/thread-27464.html
***************************************
Generate By Civilea PostGen V1.3
Password:
Code:
***************************************
Content of this section is hidden, You must be registered and activate your account to see this content. See this link to read how you can remove this limitation:

http://forum.civilea.com/thread-27464.html
***************************************
---
RE: VMware Workstation v7.0.0 Build 203739 - Dell_Brett - 09-03-2011






Code:

***************************************
Content of this section is hidden, You must be registered and activate your account to see this content. See this link to read how you can remove this limitation:

http://forum.civilea.com/thread-27464.html
***************************************

(TESTED ONLY LINK INTEGRITY - NOT INSTALLED)


---
RE: VMware Workstation v7.0.0 Build 203739 - joker™ - 06-11-2012



VMware Workstation v8.0.1





Code:
***************************************
Content of this section is hidden, You must be registered and activate your account to see this content. See this link to read how you can remove this limitation:

http://forum.civilea.com/thread-27464.html
***************************************

Code:
***************************************
Content of this section is hidden, You must be registered and activate your account to see this content. See this link to read how you can remove this limitation:

http://forum.civilea.com/thread-27464.html
***************************************
---
RE: VMware Workstation v7.0.0 Build 203739 - Mohammad6299 - 06-14-2012

VMWare Workstation v8.0



Direct LinK:




***************************************
Content of this section is hidden, You must be registered and activate your account to see this content. See this link to read how you can remove this limitation:

http://forum.civilea.com/thread-27464.html
***************************************

***************************************
Content of this section is hidden, You must be registered and activate your account to see this content. See this link to read how you can remove this limitation:

http://forum.civilea.com/thread-27464.html
***************************************

Code:
***************************************
Content of this section is hidden, You must be registered and activate your account to see this content. See this link to read how you can remove this limitation:

http://forum.civilea.com/thread-27464.html
***************************************
---
RE: VMware Workstation v7.0.0 Build 203739 - joker™ - 06-26-2012



KeyGen V8





Code:
***************************************
Content of this section is hidden, You must be registered and activate your account to see this content. See this link to read how you can remove this limitation:

http://forum.civilea.com/thread-27464.html
***************************************
---